Have you noticed that the cost of cookies, cakes and ice creams have been creeping up? Most desserts use vanilla, and vanilla prices have skyrocketed since 2014. Could that be it? Absolutely! And why is vanilla so expensive now? The answer may surprise you. Read on.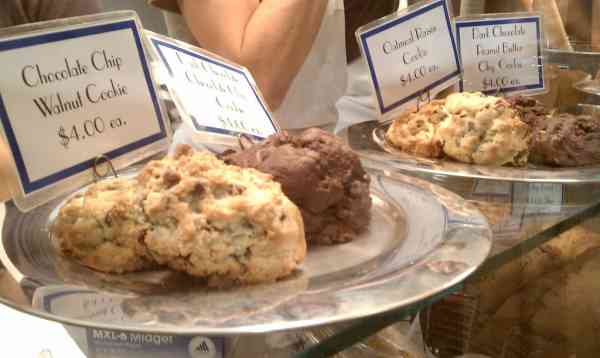 Like everything else, the cost of vanilla is affected by supply and demand, and today the vanilla supply is down – WAY DOWN. The reasons will surprise you!
Tropical farmers who grow coffee, cacao, vanilla, sugar and a few other crops, constantly face fluctuating prices for their crops due to supply and demand. And because vanilla is by far the smallest of the tropical luxury crops, the vanilla industry faces dramatic fluctuations.
Between 2005 and early 2014, there was an overabundance of vanilla. As a result, the price for both green and cured, dried
vanilla dropped to very low levels. Because farmers weren't making enough to survive, many finally burned their vanilla vines and switched to growing other crops. This eventually led to a vanilla shortage, and with the shortage of vanilla beans, prices shot through the roof!

During periods like this a "feeding frenzy" occurs as rumors abound, and the middlemen in vanilla-producing countries take advantage of this opportunity to put more money in their pockets.
M
iddlemen force vanilla prices up
You'd think that when you see the cost of vanilla go up that the farmer would benefit, but that is not necessarily the case, though in the case of this crisis, the farmers have done well. To increase their margins, middlemen and those who invest in vanilla beans in vanilla producing countries, sometimes hold the beans off the market to force prices up. The lowest level of middlemen are those who drive trucks into the bush to collect the beans and who start the vanilla curing and drying process. They don't make a big profit so when there is a shortage they benefit for a change. It's the bigger middlemen and speculators who make the lion's share of the money. Unfortunately, as is the case in this current crisis, speculators bought up the 2015 Madagascar crop, which was small, and later sold it at very high prices to manufacturers and traders who were desperate for beans.
The companies in industrialized countries that depend on vanilla beans or extract either to sell or to use in manufacturing, will pay whatever they must to keep their businesses going. The farmers may or may not benefit much from the higher prices. However, if they have continued to grow vanilla, they can finally earn a living wage or even a decent windfall as the trickle-down of funds helps them.
How serious is the vanilla shortage?
Madagascar, the world's largest producer of vanilla, is currently experiencing high tension and chaos, enough so that there are travel advisories to not visit certain areas of the country. The current hoarding and selling of bad vanilla makes the country quite volatile. While the Malagasy people are known for kindness and the country was considered safe most of the time, things have changed in the last nine or so years and it is important to check with government posts before visiting.
The green vanilla beans, known as vrac, will come in to the processing houses, from the countryside beginning in May of 2018, which causes huge tension around prices. While there was good flowering in Madagascar this year — which meant the possibility of beans in the range 2000 – 2300 metric tons — Cyclone Ava hit the coast of Madagascar during the flowering season, which means the flowers were knocked from the vines. When the beans are not quite ready to pick, they will be harvested, as farmers and middlemen want to make as much money as possible when the prices are high. This means the quality will be very poor.
In Papua New Guinea, a fairly new but significant producer of beans and ground vanilla bean powder, the normal crop is 350 metric tons or more. Because of the low prices for so many years, the farmers stopped growing vanilla but they're back in the game and are producing bumper vanilla crops. Crop quality varies however, as they are harvesting too early as well to keep up with the demand and to make more cash while they can. Now that pricing information is easily available on the Internet, they expect — and hope to sell — their vanilla beans for more money than Madagascar, an unprecedented change as Madagascar was able to sell their beans for more money than any other country for a long time. East Africa and Indonesia have also ramped up their crop production, so there is actually a large stock of vanilla beans available. The problem? The prices are so high that most buyers don't want to purchase more than a little at a time as the prices could drop suddenly.
Mexico, which once provided the vanilla beans to the world, as Mexico is where vanilla was domesticated and where they had the monopoly until the late 1800s, now only produces 30 – 35 metric tons of unprocessed vanilla a year at the most! This vanilla is already promised a year in advance.

Adding to the ongoing problems in the vanilla industry, many of the corporations who produce frozen desserts and dairy products, will switch to "other natural flavors," (which can mean either imitation vanilla or vanilla flavor made from vanillin drawn from plants other than vanilla beans), rather than pay the higher prices. When the prices drop, many will not switch back to using pure vanilla, further undercutting the industry.
There is more stability when a floor price is set for vanilla as it used to be in Madagascar. However, vanilla was deregulated in the early 1990s and we have seen swings such as the current one since then. It appears that the prices will be elevated at least through most of 2018, but there is no way to know this for sure or when prices will drop.
And what does this mean for bakers, bakeries, and lovers of sweet confections?
While the price increases will hit everyone's pocketbooks, the cost of vanilla all by itself won't actually drive up the cost of baking and the treats we love by a large margin. We will likely see an uptick in cost or, depending on the company, a switch to a cheaper brand of vanilla or even imitation. Artisan bakers and cooks would prefer to use the best because they know that cheaper quality ingredients means lower quality of the finished product. Unfortunately, given the current situation, quality is likely to drop.
Under normal circumstances we do our best to buy vanilla beans in bulk at fairly traded prices. This is true as well with our extracts (but also because we use 20% more vanilla bean extractives than required by law). However, during a crisis such as this one, all farmers are making more money and sourcing good vanilla beans is extremely difficult. As we cannot afford to purchase in large volume when prices exceed $500 a kilo, we purchase whatever is available. With the price increases, the farmers who have continued to grow vanilla – despite the low prices – will earn more. We at The Vanilla Company fully support this – even though our margin-of-profit drops. However, we do not support the cutting of green vanilla as traders, manufacturers and consumers lose because quality drops despite the high cost.

While higher prices can be a significant challenge for specialty food producers and for those of us who use vanilla in home baking and cooking, it's important to keep in mind that as home bakers, you don't use vanilla in cups, but in teaspoons and tablespoons. You don't need to buy a lot! This is not the case for artisan producers of health products, bakery goods and chocolate, so high prices are a big challenge and products using vanilla become more expensive.

And, while it may stretch our budgets, higher prices mean that the families on farms who are currently producing vanilla will have more to eat or new shoes or the children can attend school and get medical care.

The downside, of course, is that high prices mean greater danger for the growers and small middlemen. They stand the risk of being robbed or even murdered for their money as the prices are so high that vanilla sales often become as dangerous as selling illicit drugs.
Because vanilla is not traded on the International Commodities Market (coffee and chocolate are traded in millions of containers annually as opposed to less than 3000 metric tonnes for vanilla), it doesn't have the same protections as coffee and chocolate farmers have. When there is a glut of coffee, farmers are guaranteed a base price. This doesn't exist for vanilla growers. (Until recently, cacao growers also were paid a base price, but that has been rescinded, placing smallholder cacao growers in a very compromised position.)
Help us save pure vanilla
During this very challenging time we at The Vanilla Company greatly appreciate your support. In addition to continuing to promote the use of pure vanilla, I continue to speak locally, nationally and internationally in a serious attempt to save pure vanilla from extinction. When the prices collapse, the cycle starts over again. At some point so many manufacturers will have shifted to imitations that the industry will die. I have committed to continue to fight for the survival of pure vanilla. It is my hope that you too will feel passionately enough about natural tropical products to support them through wise purchases.
Thank you for caring!
You Can Buy Pure Vanilla Right Here
Help keep our farmers in business and get the best tasting vanilla available at the same time!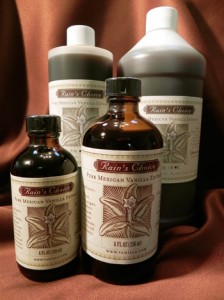 Here at the Vanilla Company, our mission is to provide our customers with premium-quality vanilla extracts and excellent customer service. Our vanilla extracts contain vanilla beans with a high vanillin content. This gives our extracts an excellent depth of flavor that is so strikingly noticeable that it is not uncommon for us to get reviews like the one below.
I opened the bottle of your vanilla extract last weekend to bake some cookies and the difference in taste is extraordinary! – Judy Draper
We use sugar cane alcohol, vanilla bean extractives and distilled water. Period! All of our vanilla products are gluten-free.
Are you ready for a taste sensation?
Latest posts by Patricia Rain
(see all)