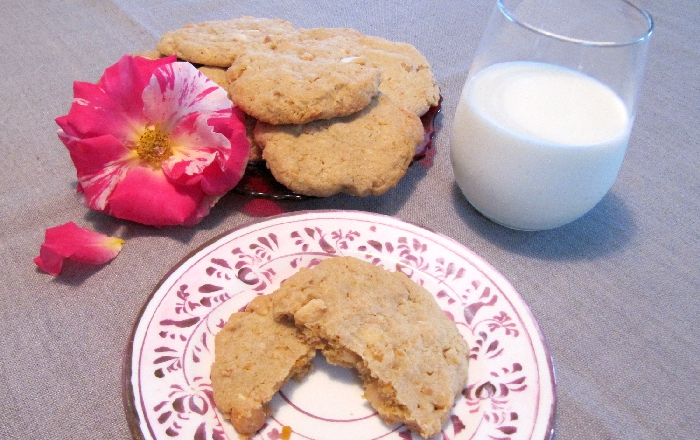 This is a spinoff of the World's Best Cookies, but worthy of its own recipe. It's a reliably good cookie, keeps well because of the relatively high-fat level (though they don't usually last long enough for that to be a problem), and you can switch out white chocolate for milk or dark chocolate, as well as the nuts. Part of the appeal of these cookies is the slight crunch from the cornflakes and slightly chewy thanks to the oats.
The recipe makes 36 large cookies; make them smaller if you'd like or freeze some of the dough and bake cookies on demand. This recipe can be doubled.
Print
White Chocolate Macadamia Cookies
1 cup butter
3/4 cup granulated sugar
3/4 cup brown sugar
2 large eggs
2 teaspoons Rain's Choice pure Vanilla Extract
3/4 cup vegetable oil
1 cup uncooked regular rolled oats
1 cup crushed corn flakes
1/2 cup shredded coconut, lightly toasted
3/4 cup coarsely chopped Macadamia nuts
1 cup white chocolate chips
3–1/2 cups sifted all-purpose flour
1 teaspoon baking soda
1 teaspoon salt (not needed if butter is salted)
Instructions
Preheat oven to 375 degrees F.
Cream together butter and sugars until light and fluffy. Add eggs and vanilla, and mix well. Add vegetable oil and mix well.
Add oats, cornflakes, coconut, flour, baking soda, and salt, if using and mix well. Blend in nuts and white chocolate chips by hand until well spread through the dough.
Using a small ice cream scoop, portion the dough and place balls on parchment paper lined baking sheets. Flatten slightly with fingertips.
Bake 12 – 15 minutes. Allow to cool on cookie sheet for 3-4 minutes before moving cookies to cooling racks.
Notes
Makes 3 dozen large cookies
Latest posts by Patricia Rain
(see all)