Visiting the San Francisco Specialty Food Show is always a January highlight for West Coast food professionals. It's like a giant no-host cocktail party but with samples of 80,000 foods and beverages but no cocktails. Although I don't remember when I first attended a show, it was sometime in the late 1980s. At that time, the event was housed in the main hall at Moscone Center, and it was possible to walk the entire show, visit with vendors and eat yourself silly in one day. Walking even one full row meant required a certain amount of discipline, however. Chocolates, olive oil, lots of cheeses, more chocolates, olives, sausages, hard candies, scones and soda might all be in the same row. It took me several shows to remember that I didn't have to taste everything, no matter how enticing, especially in random order. Fortunately, there were pitchers filled with water strategically placed to clear jaded palates.
The specialty food industry has exploded since then, and Moscone Center has been barely able to keep up. Now there are two main halls, a room filled with new exhibitors, and two meeting/break out rooms filled to capacity with exhibitors. Even the long underground hallway that connects the two main halls showcased new products coming from California food incubators. If you have a product to bring to market and you want it to take off, the fancy food show, as it's known to everyone, is the place to launch, whether you begin in New York in late June or San Francisco in January.
This is not a show for the general public; it is specifically for retailers, wholesalers, artisan producers, food writers and publishers and others involved in some way with the food industry. In San Francisco the show launches on Sunday, which is always the most crowded day, and runs through Tuesday. There are also seminars to assist small businesses, a pre-launch party for exhibitors and attendees and a number of additional events leading up to the show. It is now far better organized than in the early days, but it's large enough that it requires two days to effectively see everything. That, and a lot of stamina.
This year there were 1500 exhibitors, 1000 new products and over 20,000 attendees! When my daughter Serena and I arrived an hour after the show had started on Monday, the aisles were packed. We stayed the entire day but probably saw half of the show. So, what was our takeaway? A lot of exciting new products coming to market!
According to a panel of top food journalists and consultants, the five biggest trends in 2016 are: Southeast Asia meets the West; Grass-Fed: (products made with grass-fed milk or grass-fed beef); Protein (including snacks made with cricket flour); By the Cup: (snacks, salads, granola, broth, etc.) and; Purple Reigns (purple corn flakes, purple potatoes and foods colored purple from beets).
Admittedly, we were not seeking trends as much as what we consider really good food! We were excited to see My Mom's Mole at the show's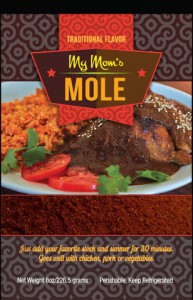 Incubator exhibit. Producer Cesario Ruiz and I worked together at a natural foods market several years ago. My Mom's Mole is an exceptional product based on a recipe from Cesario's mother. It contains 26 healthy ingredients and the sauce is ready in thirty minutes! To make a decent mole from scratch requires three days of preparation. My Mom's Mole is new to the market but its popularity is growing quickly and has already won several awards. Check out the website and expect to see it in the bigger marketplace soon.
Serena highly recommends Frontera Packaged Sauces, made by Rick Bayless. Rick's family owned a Mexican restaurant when he was growing up and he carried on the family tradition by opening the award winning Frontera Grill in Chicago. His packaged sauces provide a flavorful punch for tacos, enchiladas, chili and more. We lined up for one of their very tasty tacos. You can find his products in specialty food stores and some supermarkets.
Another excellent product made by a Santa Cruz County producer is Zena's Sass. Zena currently has five "anything" sauces, meaning they go well on or with just about anything. Zena owned and operated a fine dining restaurant along with a highly popular cafe and catering business in Truckee, California before launching her flavorful sauces.
I'm always excited to see if Guittard Chocolate has anything new and to give a hug to my friend from high school, Gary Williams, who has been with
Guittard for 56 years and has no plans of quitting for at least another decade. Guittard is my favorite baking chocolate and they have some new products that home bakers can purchase as well as some of their single origin chocolate in bars for eating. Expect more from me on Guittard very soon.
We were thrilled to see a lot of excellent new gluten-free foods — pot stickers, egg rolls, lumpia and more. Furthermore, they're on a parity in taste and texture with gluten-based foods. There are also more certified organic and non-gmo certified foods to meet customer demand for clean food.
I was quite taken by Napa Cakes Apricot Panforte. Made with dried Blenheim apricots, peaches, nectarines, dates and almonds. If you aren't familiar with Panforte, it's a dense, cake-like Italian confection that pairs nicely with after dinner cheeses and wines. I liked this particular Panforte as it has the tangy flavor of California dried fruits and is not overly sweet. It also is gluten-free.
And just in case my tastes seem a little rarefied, I am absolutely crazy-silly over good caramel popcorn. My favorite? Popcornopolis' Organic Caramel Corn popped in organic coconut oil and contains pure vanilla extract and no corn syrup! Except for the fact that it's achingly sweet (cane sugar), it's almost healthy!
I've saved until last the biggest highlight of the show for Serena and me: Bob of Bob's Red Mill was at the show signing copies of Breakfasts: 100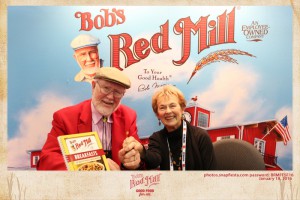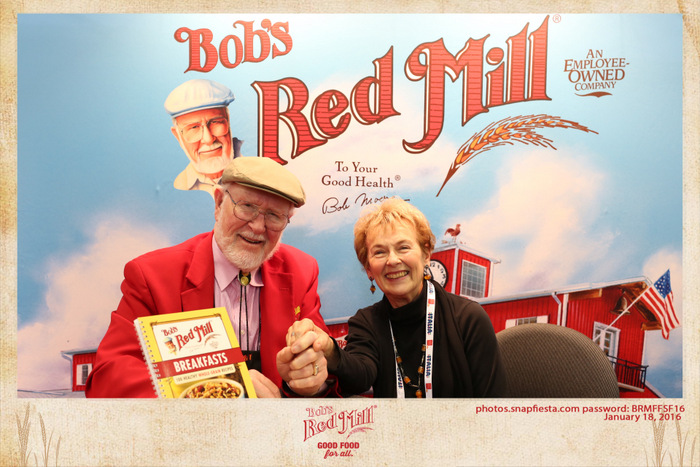 Healthy Whole-Grain Recipes!! Bob Moore and his wife Charlee launched Bob's Red Mill years ago and use 26 different mills for grinding the healthy grains used in their products. Instead of retiring, Bob gave his business to his employees and, at 87, he still runs the company and regularly visits the farms that produce the grains they use. It was an honor to have a short chat with Bob and personally tell him how much I admire him and his business. I will be writing a blog on Bob's Red Mill and include recipes from Breakfasts soon.
When the show closed, we shared a delicious Persian-inspired meal at The Fly Trap with friends of ours in the vanilla industry. Unfortunately, only a few companies attended the show this year due to the current shortage of vanilla beans. We hope that by summer we may see a shift in the situation. Only time will tell.
Latest posts by Patricia Rain
(see all)