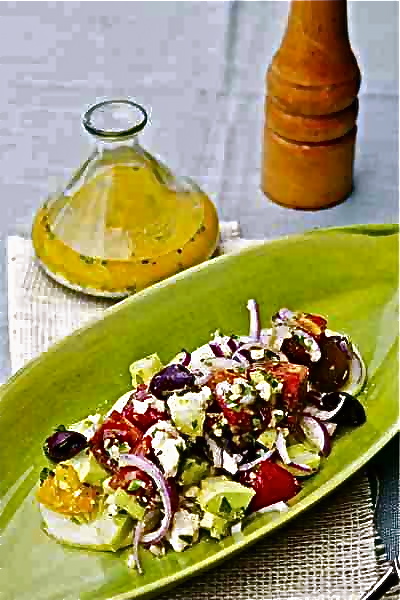 Vinaigrettes and Other Dressings: 60 Sensational Recipes to Liven up Greens, Grains, Slaws and Every kind of Salad by Michele Anna Jordan; The Harvard Common Press; 2013-07-19
Although I can't remember quite how I first met Michele Anna Jordan, I have been a fan of hers for decades. She stayed overnight at my home years ago when she did a reading at a local bookstore, and I remember being entranced by her knowledge of wine and food. We both also share a love of vanilla though Michele is a savory food and good wine gal (but always wears a vanilla-based perfume), and I'm a "Sure I like savory foods but I also want dessert!" queen.
It's no surprise that Michele is so knowledgeable; she is the author of 16 food books, including California Home Cooking (IACP Cookbook Award nominee), The New Cook's Tour of Sonoma, and Salt and Pepper. She also is known as the "Quintessential expert on California Cuisine," a title she most certainly deserves.
Michele is also a columnist for the Santa Rosa Press Democrat and a restaurant critic for the San Francisco Chronicle. She has a regular radio show, "Mouthful," for which she has been a four-time James Beard Broadcast Journalism Award nominee. I have been on her show a couple of times over the years, most recently when my book, Vanilla, came out. If you live in Northern California, do try to listen to Mouthful if you can pick up the signal. Michele's a pro at showcasing her guests and brings out the finest in what they offer.
Despite all the kudos to Michele, you may wonder, "Why a book on salad dressings?" Personally, I think it's brilliant, especially after running a demo program at a local organic food store for several years. It was then that I discovered that most people have no idea of how to make a good salad dressing! Really.
My grandmother ran a restaurant and taught me how to make her vinaigrette, always with a little dry mustard and paprika. My mother taught me her more traditional version of vinaigrette, and I have tweaked mine over the years (I love a splash of fresh lemon juice and smoked paprika along with the oil and wine vinegar, and sometimes even toss in a pinch of sugar and a little vanilla to brighten greens with chicken and fruit). So I have to admit, I assumed that most people make their own salad dressings. That is, until I worked at the store.
In case you need convincing, here are several excellent reasons to consider purchasing Michele's new book:
She has a fresh take on a lot of traditional dressings and a few that you probably have never considered – or perhaps even imagined.
Homemade dressings taste cleaner and fresher than even the best store-bought varieties.
Most bottled salad dressings use cheap oils, including canola oil, which is both highly processed and not a healthy choice.
Many bottled salad dressings contain oils and other ingredients that are genetically modified. I personally prefer a salad dressing without Roundup Ready as part of the blend.
Most bottled dressings are high in sodium and sugar – sometimes even corn syrup.
Michele offers some very interesting suggestions for salads, side dishes and even entrees that would benefit from the use of each of the dressings and even provides a "variations" section to expand dressing options.
To give you a mouthwatering taste, so to speak, consider the silky Walnut, Spicy Honey Pepper and warm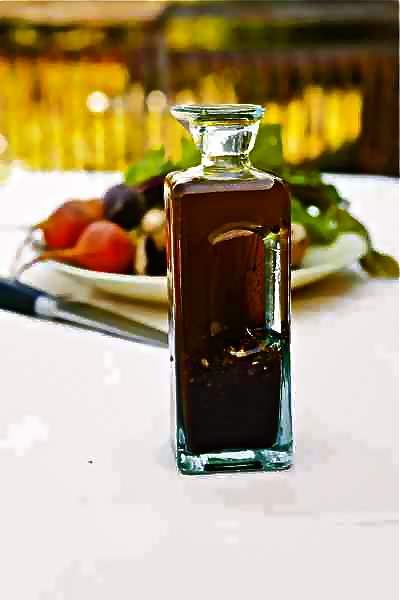 Bacon-Maple vinaigrettes for salads, marinades and sauces. Yes, you can use many of the dressings for marinades or as a sauce for meats. Creamy dressings, spicy and piquant dressings, and velvety sweet dressings: Michele has given us a great selection of flavors and methods to consider.
Here are two dressings from Michele's book that I think you will enjoy:
Avocado and Green Peppercorn Cream
Did you like this post?
"Like" it, and share your thoughts in the comments below!
Latest posts by Patricia Rain
(see all)