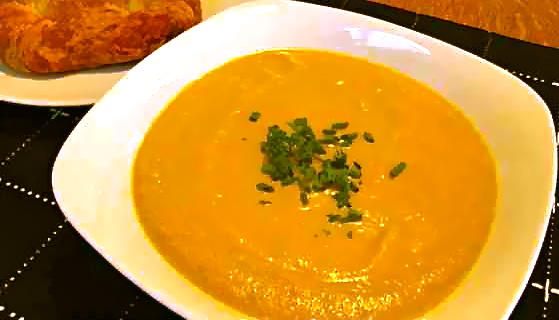 Dominga has cooked for Heriberto and Joaquin Larios of Papantla, Vera Cruz, for so many years that she and her daughter, Gabriella, are considered part of the family. Every afternoon Dominga creates delicious regional cooking, always starting with freshly made, hot soup. Under any other circumstances I couldn't imagine eating hot soup when the temperature's in the high 90s and the humidity is at least 80 percent. But Dominga's soups are too good to pass up.
My contribution to Dominga's soups is the vanilla extract. Although the Larios family has grown, cured, dried, and sold vanilla for generations, they rarely use vanilla in their cuisine. They were surprised when I suggested adding a couple of drops of pure Mexican vanilla extract to their bowls of soup. After trying it, they were convinced.
This soup can be prepared with a variety of vegetables. Dominga makes it with chayote and other squash, carrots, and a mixture of vegetables. I also make it using asparagus, spinach, or artichokes. Most root vegetables benefit from the addition of vanilla in the soup, as they are naturally sweet. Potatoes can be used thicken soup and soften flavor. I also like to add fresh herbs from my garden. Here are the basics; the variations are many.
Print
Dominga's Vegetable Soup
2 –1/2 pounds vegetables
8 cups rich vegetable or chicken broth
1/2 – 1 teaspoon Rain's Choice pure Vanilla Extract, or to taste
salt and white pepper to taste
Optional Additions
Fresh herbs such as chives, parsley, thyme, marjoram cumin, basil, or cilantro
Avocado cubes
Nutmeg
Lemon or lime juice
Liquid pepper sauce
Cream, sour cream, yogurt, or creme fraiche for garnish
Instructions
Clean vegetables and steam until cooked, or cook in broth. Peel, de-seed if necessary, and cut into cubes.
Using a food processor or blender, puree vegetables with broth. As some vegetables will have more moisture content than others, add broth a little at a time until the soup is the consistency desired.
Add vanilla, seasonings, and herbs, if desired, and heat until hot but not boiling. Taste and then adjust seasonings, adding lemon or lime juice or hot sauce at this time if desired, or place optional flavorings and dairy products for garnish at the table.
Look Delicious?
Pin it for the world to see!
Latest posts by Patricia Rain
(see all)