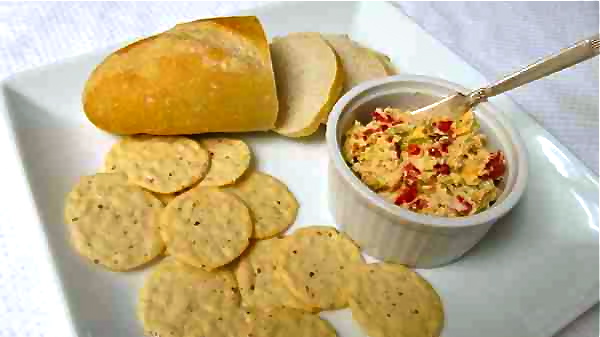 Served as a dinner party appetizer or on a picnic in the park, Vanilla Cheese Spread with Roasted Peppers and Pistachios is a lively appetizer that your guests will not forget!
Print
Vanilla-Cheese Spread with Roasted Red Pepper and Pistachios
4 ounces each mild goat's cheese and cream cheese
1 tablespoon light cream or sour cream (approximate)
1 Vanilla Bean cut open and scraped clean or, substitute 1/2 teaspoon Rain's Choice pure Vanilla Extract
2–3 bottled roasted red peppers* finely chopped
1 piece of roasted red pepper, sliced into slivers (optional)
1/2 cup shelled and toasted pistachio nuts, coarsely chopped
Salt and pepper to taste
1 fresh baguette, sliced into thin rounds
Small pieces of parsley for garnish
Instructions
Blend the cheeses with cream or sour cream, adding more if necessary to create a creamy spread. If the cheeses are very soft and creamy, you may not even need the extra cream. Scrape the vanilla seeds into the mixture or add extract. Add the chopped roasted red pepper, pistachios and salt and pepper to taste.
Spread the mixture onto the fresh baguette slices, and decorate each round with the red pepper slivers and a small piece of parsley. Serve with salted, unshelled pistachios on the side if you want. They're so addictive, it would be delightful to have both the spread and extra nuts together!
* Bottled roasted red peppers are available in many grocery stores, specialty, and ethnic foods stores.
Notes
If you are making this recipe ahead, wait on adding the pistachios until shortly before serving. While they will taste good, they will lose their crunch. The spread will need to be room temperature, so if you make it a day ahead, bring it to room temperature and then add pistachios.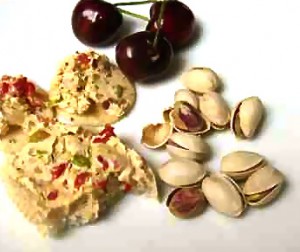 Look Delicious?
Pin it for the world to see!
Latest posts by Patricia Rain
(see all)