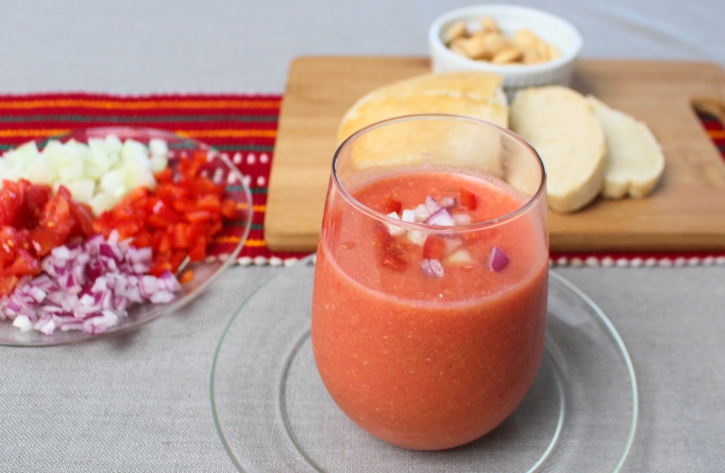 Actually, it's difficult to have too many tomatoes. Zucchini, yes; tomatoes, not so much. However, too many overripe tomatoes at a time is an invitation to make gazpacho, the perfect soup for hot, humid afternoons and evening.

The first time I had gazpacho in a glass was on a muggy, hot afternoon in summertime Manhattan. In a word, sweltering! If you've never had it before, think V8 juice but fresher, better, and with an array of condiments that make it a salad in a glass or bowl — your choice. There are a number of theories of when it was first created, but it's an old enough tradition that we know it didn't start with tomatoes. Why? Europe had not yet learned about tomatoes, a fruit of the Americas. So, it might have been more like Ajo Blanco, a soup made with bread, garlic, water, olive oil and vinegar or with pulverized almonds.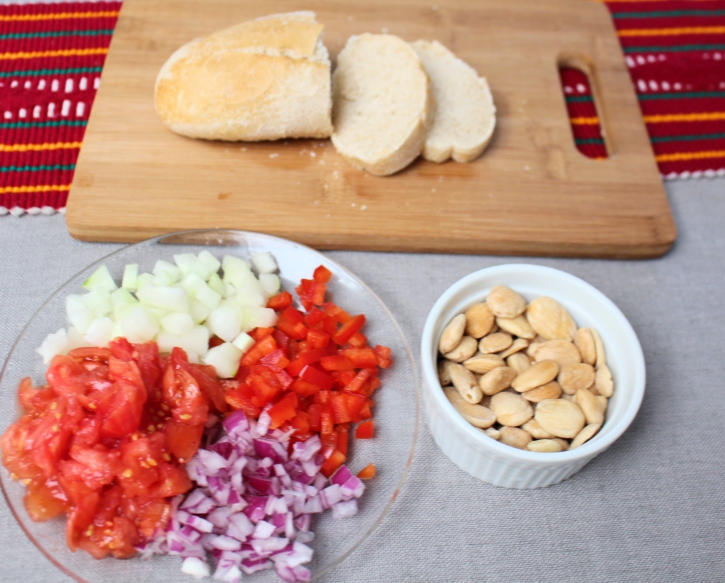 It became more like the soup it is now in the 19th century in Andalusia, an autonomous area of Spain, and different regions make it somewhat differently. It's also a popular soup in Portugal. Traditionally, it was served at the end of a meal, but you decide whether it's before, after, the the main course It's easy, to make, it's healthy, and it's very refreshing. And while I'm offering you a recipe based on Andalusian soup, that includes bread as a thickener, sometimes I don't bother with bread; add enough tomatoes and you don't need it. It should be served cold but not icy. You can also serve it at room temperature. Or, if the day cools off suddenly, no one will call the police if you serve it warm or heated.
Gazpacho was originally made using a mortar and pestle to mash the garlic and then stale bread soaked in some water, olive oil and red wine vinegar was added to create a slurry of sorts. Vegetables were chopped and added, then soup was seasoned to taste. In some regions, smoked paprika is a popular ingredient. Now, it's easy to make with a food processor or Vitamix. I add a bit of tamari (similar to soy sauce) to soften the acidity of the tomatoes and to give it some umami (savory quality). I'm also fond of smoked paprika. Where I'm going with this is that you should create your own riff on this great way to enjoy the summer's bounty of tomatoes and other vegetables.
Print
Too Many Tomatoes Gazpacho
For the Soup
1 slice country-style bread, about 1″ thick, crusts removed
2 small cucumbers, peeled, seeded, and chopped
2 lb. very ripe tomatoes, seeded and coarsely chopped
1 clove garlic, peeled and chopped (more if you love garlic)
2 tbsp. sherry vinegar
1⁄2 cup extra-virgin olive oil
1/2 teaspoon pure vanilla extract (it helps to soften acidity in tomatoes)
Sea Salt and fresh pepper (ideally white) to taste
Optional Garnishes
1⁄2 green or red pepper, seeded and finely diced
1⁄2 cucumber, peeled, seeded, and finely diced
1 cup (1/2″) croutons
1⁄2 small red onion, peeled and finely diced
1 small tomato, seeded and finely diced
1 avocado, medium dice
Chopped almonds, or Marcona almonds served on the side
Instructions
Soak bread for 1⁄2 hour in a small bowl in water to cover. Squeeze out moisture with your hands.
Purée bread, cucumbers, tomatoes, garlic, vinegar, olive oil, and 1 cup water in a food processor or Vitamix until very smooth.
Push purée through a coarse sieve with the back of a wooden spoon. Gazpacho should be fairly thin. Season to taste with salt. (If made in a Vitamix, or if you don't mind little bits of tomato skins, you can skip this step.)
Allow gazpacho to rest in the refrigerator for at least 2 hours so that the flavors develop. Taste to adjust the seasoning. Serve in individual glasses or in soup bowls with garnishes on the side.
Latest posts by Patricia Rain
(see all)