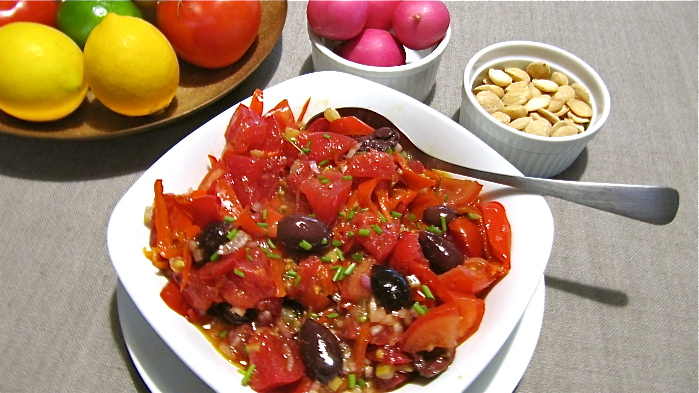 Adapted from The Food of Morocco, by Paula Wolfert

In Morocco as in many Mediterranean countries, the salad course includes a variety of salads, and this lovely salad is a classic in that respect. It's simple and delicious. However, as I was making this as a stand-alone salad, I added Greek olives. Olives, almonds or pistachios, cheeses, hummus and other salads would be included in a Moroccan spread, so adding a goat or sheep's milk feta to this salad would be in keeping with Moroccan food. The vanilla? Not so much, but as it's the theme of our site and because it actually does add a subtle boost to the cumin and red peppers in the salad, I've included it in this recipe. Feel free to use it or not.
While I have a recipe for making preserved lemons on my site, you can now find them at specialty food stores. I even saw them at Trader Joe's, so feel free to buy them instead of making them unless, like me, you are blessed with a plethora of them. This salad is best made fresh and is a great way to use up extra tomatoes at peak season.
Print
Tomatoes, Preserved Lemons, and Sweet Red Peppers
1 pound red-ripe tomatoes, peeled, halved, seeded, and cut into 3/4-inch chunks
2 red bell peppers, grilled or broiled, peeled, seeded, and cut into small pieces (3/4 cup)
3 tablespoons finely chopped red onion, rinsed, drained, and squeezed dry in a paper towel
5 tablespoons fruity extra virgin olive oil
Juice of 1/2 lemon or to taste 1/2 teaspoon ground cumin, preferably Moroccan
1/2 teaspoon sea salt
Pinch of sweet paprika
1/4 teaspoon Rain's Choice pure Vanilla Extract
Pinch of cayenne
1 preserved lemon, pulp removed, rind rinsed and cut into 1/8-inch dice
Instructions
Combine the tomatoes and peppers in a medium glass serving dish. Add the onion, olive oil, lemon juice, cumin salt, paprika, and cayenne, and toss to mix. Cover and refrigerate until well chilled, about 30 minutes.
Just before serving, sprinkle the preserved lemon peel over the chilled salad.
Feel free to add olives, feta and even white beans to make this salad more hearty.
Notes
Adapted from The Food of Morocco, by Paula Wolfert
Serves 4 as part of a traditional salad course.
Latest posts by Patricia Rain
(see all)