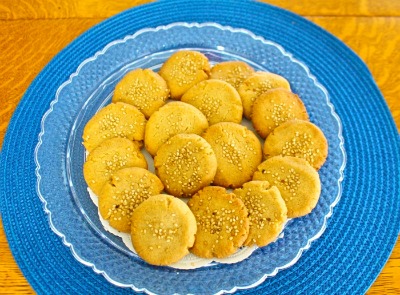 It's fun to watch trends come and go and when a particular trend reappears, the recipes using the current ingredient are often uniquely different. For the past eight months I've noticed tahini in a large assortment of recipes. However this cookie comes by it honestly as it comes to us from Mamaleh's, a new incarnation of the classic Jewish Deli, in Cambridge MA. Rachel Sundet, pastry chef at Mamaleh's claims the honey keeps these shortbread cookies really soft.
No, I didn't go to Cambridge just to eat at Mamaleh's though I would have in a flash had the opportunity presented itself. I discovered both the recipe and mention of Mamaleh's in Bon Appetit's best new restaurants of 2017 write-up.
Because I used gluten-free flour and because the liquid to dry ingredients ratio made me concerned that the cookies might crumble apart, I added a little extra xanthan gum. My cookies ended up a bit more crisp than "melt-in-your mouth crumbly." The next time I make them, and I do plan to as the tahini flavor is hauntingly delicate, I will skip the extra xanthan gum and see if there's a noticeable difference.
I also made these cookies for friends who are vegan. Easy to do as I simply substituted Miyako's vegan butter (which I highly recommend!) for dairy butter. So much nicer than the salty Earth Balance. However, it is pricey. If you live near a Trader Joe's, I found it there for $2.00 less than our local natural foods store. However you make these cookies, just do it!
Print
Tahini Cookies
2 cups all-purpose flour
1 teaspoon baking powder
½ teaspoon kosher salt
¾ cup (1½ sticks) unsalted butter, room temperature
¾ cup sugar
3 tablespoons honey
¾ cup tahini
1–1/2 teaspoons Rain's Choice pure Vanilla Extract
¼ cup toasted sesame seeds
Instructions
Place racks in upper and lower thirds of oven and preheat to 350°. Whisk flour, baking powder, and salt in a medium bowl. Using an electric mixer on medium speed, beat butter, sugar, and honey in a large bowl until light and fluffy, about 3 minutes. Beat in tahini, then add dry ingredients in 2 batches, beating after each addition until fully combined. Dough will be slightly sticky.
Place sesame seeds in a small bowl. Scoop out heaping tablespoons of dough (about 1 oz.) and roll into balls. Dip tops of balls in sesame seeds, pressing to adhere, and place, sesame side up, on 2 parchment-lined baking sheets, spacing about 2″ apart. Bake cookies, rotating baking sheets halfway through, until golden brown, 13–15 minutes. Let cool on baking sheets (cookies will firm as they cool).
Latest posts by Patricia Rain
(see all)