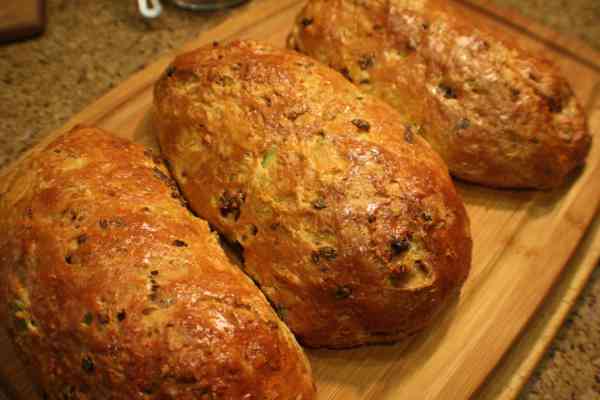 Courtesy of Stephen Block: www.kitchenproject.com

Steven says, "Stollen is nice because it is not too sweet, and has a nice soft buttery texture with hints of lemon and candied orange, toasted almonds, and wine soaked raisins and currants."
"With the candied fruit, it is a traditional German Christmas bread, often called Christstollen, because it is shaped like the baby Jesus in Swaddling clothes. In Dresden, Germany, there is a Stollen Festival during the holiday season where a huge Stollen, weighing over a ton, is carried into the festival square by the bakers in the town. It is then cut into small pieces with a special knife and sold to the festival goers, with the proceeds going to a charity.
Stollen is also popular year-round with or without the fruit. My father makes wonderful stollen throughout the year without the candied fruit. I often have a piece with espresso in the afternoon when I visit with him.
Pure vanilla enhances my grandmother's Stollen recipe as it does all Christmas treats. So many people say that it is the secret of those baked goods that get wonderful reviews.
Here is the web site with step by step instructions and pictures. http://www.kitchenproject.com/german/recipes/Stollen/index.htm
Vanilla Candied Fruit
This is not hard to make and you won't have to depend on the expensive candied fruit in the store. Multiply the recipe if you want.
Print
Candied Fruit
Candied Fruit
Peel from 2 oranges, coarsely ground or cut into 1/4 inch pieces
Peel from 2 lemons, coarsely ground or cut into 1/4 inch pieces
3 cups water, divided use
2 cups Karo Syrup or 2 cups sugar
1 Vanilla Bean, split lengthwise
Vanilla Candied Pineapple
2 cups approximately, or one can of pineapple tidbits (This can be more or less it doesn't matter. As long as there is enough liquid to cover the pineapple chunks.)
Vanilla Candied Cherries
1 cup or so of maraschino or pie cherries and follow the recipe instructions below.
Vanilla Plumped Raisins
1 cup golden raisins
1 cup white wine (such as a Riesling)
1 Vanilla Bean, split lengthwise
Instructions
Candied Fruit
Simmer the orange and lemon peel in 2 cups water for approximately 10 minutes, then drain peel into a sieve.
Now add the fruit and 1 cup of water and simmer for 20 minutes with Karo Syrup or sugar and vanilla bean.
The fruit now can either stay in the syrup, or it can be spooned onto a cookie sheet and left to dry and crystallize. I usually just keep it in a jar. I spoon what I need into the recipe.
If you use the sugar it will crystallize like the candied fruit that you see in the stores. If you use the Karo Syrup it will be gooey. (I like the gooey.)
Candied Pineapple
Cut pineapple and simmer in 1 cup water, 2 cups sugar or Karo syrup and a vanilla bean, split lengthwise (use the same vanilla bean that you used for the citrus if you want) green food color (if desired)
Vanilla Plumped Raisins
Simmer the raisins in the white wine with the split vanilla bean.
STOLLEN (Braided Coffee-Cake)
Grandma's Stollen was one of her very special productions. The dough was always beaten, at great length, using her bare hand and beating in only one direction. She was sure that this procedure made the dough strong and very light. The Christmas Stollen had candied fruit added to the dough, but Stollen was also made without fruit, and just decorated with almonds. The following recipe has been adapted for use with a Kitchen Aid Mixer.
Print
Stollen
7 cups flour
1 cup sugar
1/2 pound butter, softened
2 pkg. dry yeast
6 large eggs (should be 1–1/3 cups eggs)
1/2 teaspoon mace
2 teaspoons salt
grated rind of one lemon
1–1/2 cups milk, lukewarm
Optional
3/4 to 1-1/4 cup finely chopped Vanilla Candied Fruit, mixed with 1 cup Vanilla Plumped Raisins
1 beaten egg for glaze
1 cup blanched almonds to decorate outside
Instructions
Heat oven to 335-350 degrees
In the large Kitchen Aid bowl, starting with mixing paddle: dissolve yeast in milk, add 2 cups flour and 1/4 cup sugar to make a sponge. Mix and let stand while assembling other ingredients. (About 15 min.)
Add eggs, butter, lemon rind, 1 cup flour, 3/4 cup sugar, salt and mace; mix until smooth.
Add fruit.
Add remaining flour, 1 cup at a time, changing to dough hook when the mixture becomes too stiff for the paddle.
Knead for about 15 minutes, or until dough is smooth and shiny, scraping sides of bowl when necessary. If it is sticky because of the moisture in the fruit, add a little more flour. Dough will be soft, so don't add too much more flour.
Put into large greased bowl to rise in warm place, about 2 hours, or until doubled.
Turn out on floured board, cut into 4 pieces. (Knead a little flour into each if dough is too soft.
Cut each piece into 3, roll each section into a short rope about 1 1/2-2 inches in diameter and about 9 inches long.
Lay these 3 side by side, pinch together at one end, and gently braid, loosely, just a few crossings.
Transfer to cookie sheet (either greased or non-stick.)
Repeat with the other 3 pieces, putting each finished braid on a separate cookie sheet.
Allow to rise until nearly double. (Additional rising will take place in oven.)
Brush with beaten egg, decorate with halves of blanched almonds, and bake at 335-350 degrees for 25-30 minutes. Sprinkle with powdered sugar if desired.
To Blanch Almonds:
Put 1 cup shelled almonds into pan, cover with hot water, bring to boil. Turn off heat, allow to stand 5-10 minutes. Drain off hot water and cover almonds with cold water, letting them stand for a few more minutes. Skins will readily slip off when pinched. Split each almond in half, otherwise they are too bulky, do not cling to the dough as well, and are too hard to cut through after Stollen is baked.
A lot of folks make a folded Stollen that looks like a big parkerhouse roll. The cool thing about it is that it has a 1 inch tube shaped piece of marzipan down the center of it.
Look Delicious?
Pin it for the world to see!
Latest posts by Patricia Rain
(see all)