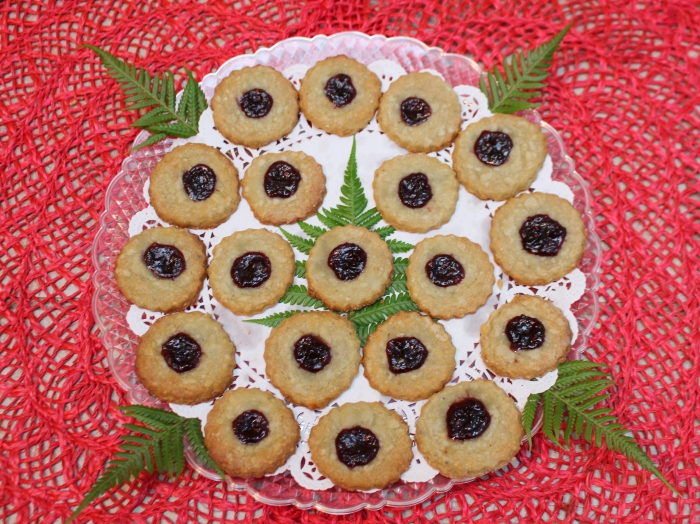 When I attend parties, especially in the autumn and winter, I'm always drawn to the fresh from the oven appetizers. You too? Sure, the cheese, fruits and nuts platter is a draw and the dessert platter is a must-check, but the multi-sensory appeal of something meltingly warm, especially when it's chilly, is always welcome. I can assure you, these divine Savory Cheese Cookies will be a hit!
I found the basic recipe for these cookies years ago. While my family and friends love my small empanadas, made with a rich dough and filled with sharp cheddar cheese or chopped olives and brie, I wanted something new, and the idea of blue cheese blended into the dough, then topped with a dab of fig spread sounded interesting.
I've played with this rich, buttery recipe a little, including gorgonzola with blackberry spread, like the ones in the photo. There's no reason not to stretch further. Stilton (either blue or white), or aged Cheddar for instance. Fontino, Gruyere, or Compte. You are certainly welcome to use jam rather than the thicker fig or berry spreads that are often included in cheese platters. Just know that the thicker spreads tend not to spread as much as preserves. However you decide to tweak this recipe, everyone loves warm cookies, and savory ones will very likely be well-received.
Print
Savory Cheese Cookies
1 cup all-purpose flour
1/2 cup (1 stick) butter, room temperature
4 ounces Gorgonzola or Blue cheese crumbled
Ground black pepper
3 – 4 Tablespoons (approximately) Fig Blackberry or spread
1/4 – 1/3 teaspoon Rain's Choice pure Vanilla Extract
Instructions
Preheat the oven to 350 degrees. Line a baking sheet with parchment paper.
Place the flour, butter, blue cheese and a few grinds of black pepper in the bowl of a food processor. Process until the dough just comes together and starts to form a ball.
Scrape the dough onto a lightly floured surface and knead a few times to pull the dough together. Roll out to 1/8 inch thick with a floured rolling pin. Cut rounds out of the dough with a floured 1-inch cutter and transfer the rounds to the parchment-lined baking sheet.
Blend vanilla extract into the preserves or spread you are using or add it to the pastry dough. Either way, it will bring up the sweetness in the cheese without overshadowing the cheesy flavor of the cookie.
Use you the pad of your middle finger or your knuckle to make an indention in the top of each dough round. Spoon about 1/4 teaspoon of preserves into each indention, using your finger if necessary to push the preserves into the indentations.
Bake the cookies for 10 – 14 minutes, until the pastry is light-to-medium golden brown.
Let cool on the baking sheet for at least 10 minutes, then remove to a wire rack to cool.
Latest posts by Patricia Rain
(see all)