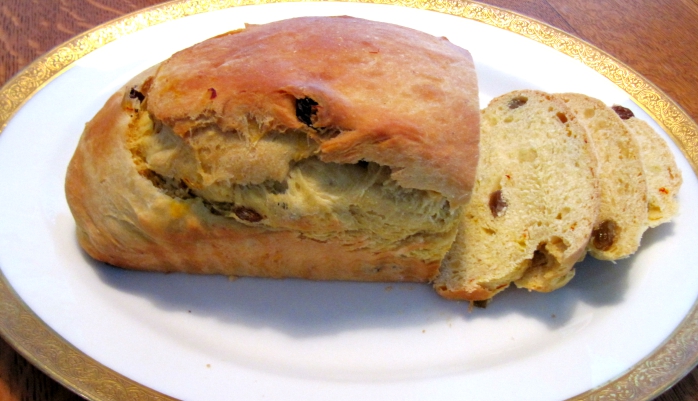 Saffron has been a coveted spice used by people across many cultures for roughly 3,500 years. A little more than 200 years ago England was the world's largest producer of saffron, growing it in the loamy soil in Essex County. Interestingly enough, David Smale has revived the art of growing saffron near the village of Saffron Walden. The town's name was changed to its current moniker during the Middle Ages when saffron was first grown there.
I've shared this small glimpse into saffron's past as this recipe for saffron bread represents one of the versions of saffron bread served during the Christmas holidays in England and also for other celebratory occasions. This recipe comes from our own Vanilla Contessa, Gina Tassone, whose mother still bakes this slightly sweet, flavorful bread occasionally when her children come to visit as it is a family favorite, always quickly devoured. Gina suggests that you lightly toast it as that enhances the delicate saffron flavor.
Some recipes contain cinnamon, others nutmeg. I boosted the nutmeg in the recipe slightly as even though it was freshly grated, I couldn't taste it. It also occurred to me that if you're serving saffron bread in the spring, a tablespoon of lemon zest would be a pleasant addition though certainly not necessary.
Print
Saffron Bread
1/2 cup unsalted butter, melted
1 cup whole milk (or milk substitute), scalded and cooled
1 cup sugar
1 teaspoon salt
2 packages dry yeast
2 large eggs, beaten
1–1/2 cups golden raisins
1–1/2 cups lightly toasted walnuts or pecans, coarsely chopped (optional)
6–1/2 cups unbleached all-purpose flour plus more for kneading
1–1/2 teaspoons freshly grated nutmeg (or to taste)
1 gram Saffron Threads or 1/4 teaspoon saffron powder
1 tablespoon Rain's Choice pure Vanilla Extract
Instructions
In a small bowl, place saffron in 1/3-cup hot, but not boiling, water. Cover and let stand at least 20 minutes.
Place the 2 packages of yeast in another small bowl. Add 1/2 cup lukewarm water and allow to stand at least 5 minutes, stirring so that all yeast is dissolved.
In a medium-large saucepan, scald milk. Add butter, sugar and salt and allow it to fully cool.
In a large bowl, combine the cooled milk, butter and salt with the yeast mixture. Next add beaten eggs, saffron and vanilla.
In a separate bowl blend 6 cups flour, raisins, nuts, if using, and nutmeg. Add slowly to liquid mixture, beating well.
Using a wooden spoon or a hand- or stand- mixer with dough hooks begin the kneading process.
If you are making the bread by hand, flour the surface you are using and knead the bread until smooth and not sticky, roughly 10 – 15 minutes, adding up to a cup or so of flour as needed.
If you are using a mixer with dough hooks, knead until smooth and not sticky. I added about 1-1/2 cups more flour to the mixture. Add the flour a little at a time so that you don't end up adding too much.
Oil another large bowl and place the bread dough into the bowl and lightly oil the surface of the dough. Cover with a clean cloth and place in a warm spot to rise until volume has doubled in size (roughly 90 minutes). (My kitchen was cool, so I placed the bowl on a heating pad on the lowest option.)
Lightly oil bread pans. Shape bread into loaves or rolls and allow to rise again until double, covered lightly with a towel.
Heat oven to 350 degrees while bread is rising. Bake about 30 minutes. Bread is ready when it sounds hollow when tapped.
Notes
Makes two large loaves and 2 smaller loaves, or 2 large loaves and 4 to 6 rolls.
Latest posts by Patricia Rain
(see all)