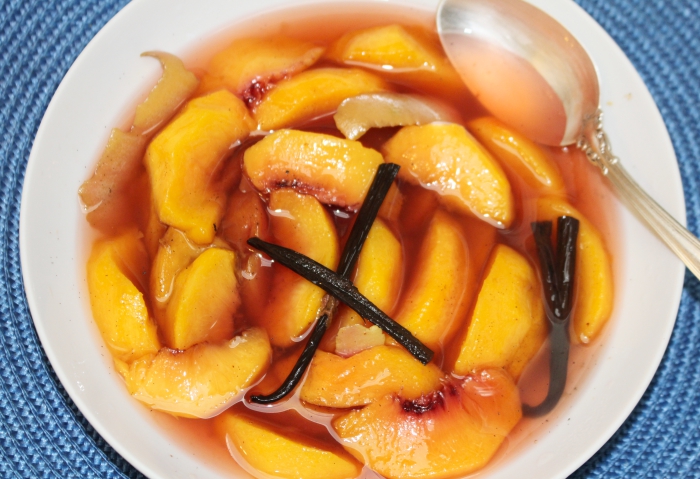 After a summer filled with luscious stone fruits, every kind of berry imaginable, and even beverages, ice creams and sorbets made with summer fruits, you'd think I'd be ready to embrace the autumn harvest filled with pears, apples, persimmons and more. I love autumn fruits and squash and heritage tomatoes. But I don't want to let go of the peaches and berries until the last possible minute. Fortunately, there's the Autumn Flame peach to help ease the pain. They're a late, freestone peach bred to carry us through September and into early October. They're a semi-firm, sweet peach with low acidity but enough character and body to use in fruit salads, for eating out-of-hand, for baking and for canning or freezing. Autumn Flames have a dark, rich blush, are easy to use as they're freestone and they hold their shape when cooked. My lead-in to Rum and Vanilla Poached Peaches!
Have you bitten into a late nectarine or peach and it tastes woody and almost flavorless? Or maybe it's almost good but it's still too firm? Very disappointing. But one year I decided to see what would happen if I turned the not-quite-good late peaches I purchased into what turned out to be a delicious peach galette. Cooking the peaches brought up their flavor, softened their texture, and extended the season gracefully if only for a few days. So when I bought the Autumn Flame peaches two weeks ago, I knew that if they weren't great, I could still cook them. I did both. Loved the flavor and enjoyed several raw. Then I poached some in a light syrup flavored with dark rum. This way I would have some on hand when the peaches stopped showing up at the Farmers' Market. Best fruit idea in quite a while.
I gave some of the poached peaches to friends who were also sad about the season's drawing to a close. They loved them. If you have access to enough peaches, make the following recipe and can or freeze them for the holidays, or store the spiced peaches in the refrigerator in a glass container and serve with ice cream, crème fraiche or Greek yogurt for dessert. They also make a sophisticated side dish alongside a pork or venison roast.
No fresh peaches left but the recipe sounds good? You can purchase frozen freestone peaches to make this recipe. Cook the peaches when they're still partially frozen and keep them in the syrup very briefly, remove them and reduce the syrup. You can also spice the peaches by adding whole cloves, a cinnamon stick and allspice to the syrup.
Print
Rum Poached Peaches
4 pounds firm, ripe peaches
2–1/2 cups sugar
2 Madagascar Vanilla Beans, split and scraped, pods reserved
zest strips from 2 lemons
fresh lemon juice to taste
1 cup dark rum (I use Meyer's)
Instructions
Bring a large pot of water to a boil. Meanwhile, prepare an ice-water bath. Cut a small x in the bottom of each peach. Boil peaches for 1 minute.*
Transfer to ice-water bath. Let cool slightly. Peel and pit peaches, and cut into 3/4-inch-thick wedges.
Bring 4 cups of water, the sugar, vanilla seeds and pods, and lemon zest strips to a boil in a large saucepan, stirring until sugar dissolves. Add peaches and rum. Simmer until peaches are tender but still hold their shape, 5 to 7 minutes.
Transfer peaches to a large bowl using a slotted spoon. Cook syrup over medium heat and reduce syrup by half, about 15 minutes. Taste the syrup and add lemon juice to taste. Pour over peaches. Let cool completely. Store in a glass container unless you want to can them. If you do, read on. If you don't, store the vanilla beans with the peaches. When you've used up the peaches, rinse the vanilla beans, pat dry, and store in your sugar or reuse one more time in cooking.
Divide peaches among five 12-ounce sterilized jars using a slotted spoon. Pour syrup over tops and add pieces of the vanilla pods to the jars. Seal jars and refrigerate until ready to use, or process. If you want to process them, check online or in a cookbook for instructions.
Notes
*I skipped this step as the peaches peeled easily enough, but if yours don't or you hate peeling peaches, it's a good tip.
Latest posts by Patricia Rain
(see all)