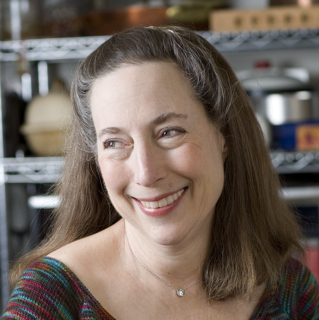 If you aren't familiar with Rose Levy Beranbaum, get ready to meet an extraordinary baker and beautiful, humble woman.  Rose has been creating amazing cookbooks for more than two decades that have become classics for those who love to bake.  Rose has a wonderful site, complete with blog and monthly newsletter, which I highly recommend.  Her most recent cookbook, Rose's Heavenly Cakes won the Best Cookbook of the Year at the International Association of Culinary Professionals conference in April of 2010.
In addition to the book review on Rose's Heavenly Cakes, I wanted to honor Rose by sharing a blog of her visit to the San Francisco chapter of the Baker's Dozen, where the group began.  (There are now chapters of the Baker's Dozen across the country.)
I really can't say enough good about Rose.  I highly recommend, however, that if you are a serious baker, you purchase her books as you will find you use them regularly, whether for the recipes or for the detailed information she provides.  The books are nearly as good as attending one of her classes.
The following article is courtesy of Rachel Colleen Boller, an excellent baker in her own right.
Let me start out by disclaiming any charade of impartiality. Rose Levy Beranbaum's
books formed the backbone of my baking chops. I baked my first wedding cake, for my
best friend, from an old copy of the Cake Bible. Pie crust peace came to me after working
with the Pie & Pastry Bible.
Others might find her too wordy, picky, or scientific – not me. Like Rose, I wasn't very
interested in theoretical science, but "delight in submitting [myself] to rules and formulas
if it means achieving repeatable perfection" so am fascinated with baking science as it
applies to real-life empirical baking.
I have come to realize how much work, testing, and care goes into producing an excellent
recipe, but creating a recipe that is good enough to teach someone a technique that
heretofore most had only learned by apprenticeship (i.e. actually watching someone else
do it right in front of you, over and over)? That's rare.
Rose writes at the textbook level (as I think fellow Bakers Dozen member Flo Braker
does – Flo's recipes are flawless) but the joy comes off the page (never dry) and the
detail is there for a reason: for absolute clarity of instruction. As Rose described an
editing error to the group in the Grand Marnier Wedding Cake recipe in Rose's Heavenly
Cakes, (paraphrasing here) "I cannot live with someone getting halfway into the wedding
cake and not having enough ganache…when the ganache takes 6 hours to set?!"
Rose cannot live with such an error, because she knows how painful that would be in the
heat of the moment for the baker at home, and so she made a (possibly unwelcome, last-
minute) edit that would assuage her conscience.
How Rose Met Flo Braker & Why Collaboration Among Bakers Helps Us All
Rose was rhapsodic about bakers – lucky because Foreign Cinema's hall was packed to
the gills with about 110 bakers. "Bakers are such wonderful people, because you do what
you love…nobody makes you go out and do baking for a living." Rose was also
rhapsodic about Bakers Dozen's own Flo Braker, and she shared the story of how she and
Flo met, at a baking demo at the first IACP conference.
Flo was making petit fours in good humor despite all her stuff being locked in the walk-
in (if it had been Rose she "would have been shaking"). Rose declared Flo "the loveliest
person [she has] ever met," and remembered being discouraged after seeing Flo's book
come out…Rose thought there is no need to do another book after seeing Flo's book The
Simple Art of Perfect Baking. But as Rose discovered there is room for all voices, and for
her books, and "by collaborating instead of being secretive, we all gain".
Rose adored the Dark Chocolate Cake in Flo's newest book, Baking for All Occasions –
my go-to chocolate cake (Flo was kind enough to give me permission to post the recipe
on my blog – and it inspired some tinkering. Rose has come up with something called the
"FloRo" – a marriage of Flo's and Rose's two chocolate cakes – check for a post on
Rose's blog soon.
Rose's New Book On Cakes – 22 Years After the Cake Bible
In Nancy Kux's introduction, I learned this was Rose's third visit to the Bakers Dozen is
support of her 9th cookbook, Rose's Heavenly Cakes. Some may wonder "why a new
cake book?" but Rose's dream was to have every cake pictured (the Bible was black and
white) and she wanted to include breakthrough recipes (like the one she demonstrated;
read on!), oil layer cakes, and cakes for the now common 2″-high cake pan.
I am very familiar with Rose's Heavenly Cakes (RHC), having participated in the
online Heavenly Cakes bake along—one cake from RHC is featured every week and
participating bakers make at least two featured cakes per month. If you picked up
RHC at the meeting, after you have leafed through the gorgeous photos and chosen
your first recipe, you might want to check to see if the Heavenly Bakers have made
that recipe, because you will see step-by-step photos, and recipe reviews.
My favorite cake so far is the Sicilian Pistachio Cake (for recipe; pg. 65 of RHC; also
pictured), but my favorite recipe is the ground-breaking, baby-grand-piano-shiny Dark
Chocolate Lacquer Glaze (pg. 290 & 416 of RHC), a recipe originating in Japan from the
"renowned patissier Sugino-san, whose bakery is in Tokyo." Rose and her assistant
Woody Wolston demonstrated this recipe for an eager audience in Foreign Cinema's
gallery.
Rose shared juicy book publishing "stories behind the story" while waiting for the glaze
to come to temperature (it glazes best between 80-85 F). She got to meet Lionel Poilâne,
who revolutionized bread baking, when she was invited to come into the legendary Paris
bakery when writing the Bread Bible, and said that the following year he died.
She mentioned meeting redhead Apollonia Poilâne, and in looking up the reference to
Apollonia, I learned of the terrible helicopter accident that took Lionel Poilâne's life in
2002, and caused then 18-year-old Apollonia to inherit the legendary bakery. Rose was
full of stories of baking legends, but I could not type fast enough to get all of them – Rose
is a New Yorker and speaks quickly!
At one point, Woody ran to the back bar (where I was perched with my laptop, furiously
typing notes) to ask for ice to get the glaze to cool down faster. From personal
experience, I know how critical it is to use this glaze at 80-85F. It covers beautifully in
"one shot," but will not coat as evenly at a higher temperature.
Story of the Lacquer Glaze, All the Way from Japan
Rose was researching an article on sugar in Japan when she met Sugino-san, who runs a
tiny one-man bakery in Tokyo, and came upon this incredibly beautiful glaze. Her friend
Reiko offered to provide translations of the recipe, and Rose was afraid to make it for
three years! Pierre Hermé (the king, or should I say roi of macarons) is Sugino-san's god,
but Rose thought his work more exquisite than Pierre's. Finally, Dallas chocolatier Zach
Townsend emailed Rose with a question on gelatin and chocolate, she guessed he was
working on a similar glaze, asked if Zach got his recipe from Japan (which, in fact, he did
but from another source)…and so began a collaboration between Rose and Zach that
resulted in the final recipe for this glaze. Zach's La Bomba (pg. 285), a glorious
blackberry, tea infused, chocolate mousse cake made in a 7″ boule shape (4 cups),
covered with Zach's version of this glaze, is the hardest recipe in the book.
Bakers Dozen members baked many recipes, selected by Rose from RHC (I made the
German Chocolate Cake). There was a table for everyone to taste next to the book table
Celia of Omnivore Books set up with all of Rose's Bibles. I had to leave so I have no idea
how long Rose stayed to sign books for the long line of BD members patiently waiting
for her signature on the patio.
In closing, I know there was so much more touched on that I did not get to here, and I do
have many inscrutable notes. I am dying to know what exactly Rose meant by saying that
"cake flour is passive aggressive." She said it with such conviction, I am sure there is a
story there. I am thrilled for the chance to meet Rose, and incredibly grateful for the
people I have met and experiences I have had with the Bakers Dozen over the past year. I
agree with Rose. Bakers are wonderful people, and that means all of you.
Latest posts by Patricia Rain
(see all)