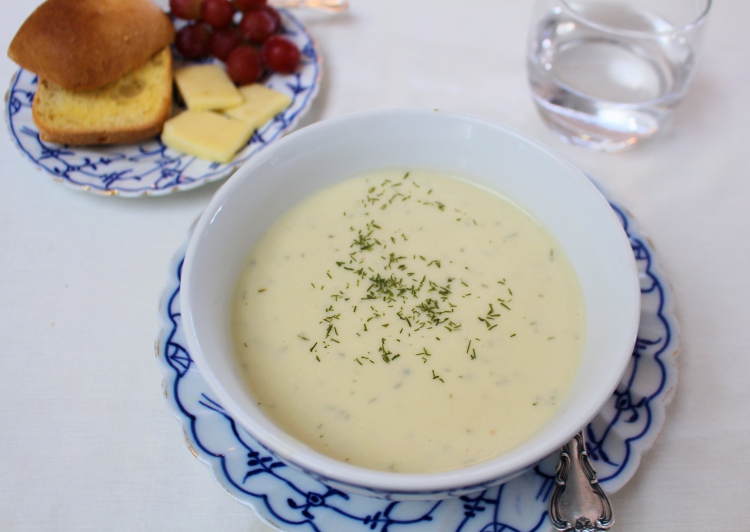 Cauliflower was never on my A-list. I don't remember hating it as a child because I don't remember my mother ever serving it. When I was older, it seemed fine raw served with a really good dip. Or smothered in a cheese sauce. However, I rarely bought or used it.
Fast forward to 2012. I roasted it and suddenly ho-hum cauliflower came alive! Sweet, tender, and incredibly adaptable. Actually, it was good enough to by itself with a little salt and pepper.
All this is to say that given cauliflower's available in the autumn and winter, how about Roasted Cauliflower Soup?
I've provided the basic recipe for making the soup; you choose the embellishments. If you appreciate the subtle roasted flavor of the cauliflower, a dusting of nutmeg, a pinch or two of allspice and a teaspoon of vanilla will enhance the subtle sweetness. I added about 1/4 teaspoon of saffron soaked in warm water in honor of the flavors of the Silk Road. Saffron is a warm flavor, and adds some color and a delicate taste if used judiciously. I also added about 1/4 teaspoon of freshly grated nutmeg because it's so good in cream soups.
If you lean toward bolder flavors, a good curry powder or Garam Masala will do the trick. Garnish with scallions or pickled onions. Chopped, roasted New Mexico green chilies would give it some bite, or drizzle in habanera salsa for a more intense kick. Additional options include Siracha, Korean or Thai hot sauces…you get the picture. Many options. Do add vanilla as it enhances both the cauliflower and whatever additional flavors you choose.
Print
Roasted Cauliflower Soup
A warm and comforting soup that allows for whatever flavor combinations you choose to add to it — delicate, sassy or somewhere in-between.
1 large cauliflower, florets broken off and stalk chopped (roughly 2 pounds)
1 large or 2 medium potatoes, such as Yukon Gold, peeled and cut into bite-sized chunks
3 tablespoons avocado or olive oil, divided
Sea salt
1 medium red onion chopped
3–1/2 cups chicken or vegetable stock
1/2 cup cream (or additional 1/2 cup stock)
1 – 2 tablespoons butter (optional)
1 – 2 tablespoons lemon juice (to taste)
1 – 2 teaspoons Rain's Choice vanilla extract (to taste
Add your preferred flavor options*
Garnish: chopped Italian parsley, chives or scallions
Instructions
Preheat oven to 400 degrees Fahrenheit.
Line a large rimmed baking sheet with parchment paper. In a bowl toss the cauliflower with 2 tablespoons of oil, coating the cauliflower. Arrange the florets on the baking sheet in a single layer (use 2 sheets if necessary), and lightly sprinkle with salt. Bake until the cauliflower is cooked through and lightly caramelized, roughly 20 – 35 minutes.
In a soup pot, heat the remaining 1 tablespoon of oil until it shimmers. Add the chopped onion and a pinch of salt. Cook, stirring, until the onion is cooked, and becomes translucent. Don't overcook.
Add broth, cauliflower and cut up potato to the pot and bring the soup to a simmer, add lid, and allow to cook roughly 20 minutes, or until the cauliflower and potato, are very tender, stirring periodically.
Remove the pot from the heat, remove lid, and allow soup to cool for at least five minutes.
Using a blender or food processor, add vegetables in batches with enough broth to puree the vegetables, but not so much that it becomes too liquid. Pour pureed soup into separate pot, and continue until all of the soup has been pureed. Once everything is pureed, add cream, if using, and adjust the thickness of the soup by adding more stock.
Add butter if using, then add vanilla extract, and 1 tablespoon lemon juice, taste, then add more lemon juice if needed. (I used Meyers's lemons, which are not as tart as Eureka or Lisbon lemons, which is why I recommend tasting before adding more lemon juice.
Now add the additional flavors you're using (saffron, chilies, etc.),* stirring well. Let the soup rest until the flavors are well absorbed. Reheat if necessary but don't allow to boil. Pour into soup bowls and garnish as desired.
Latest posts by Patricia Rain
(see all)