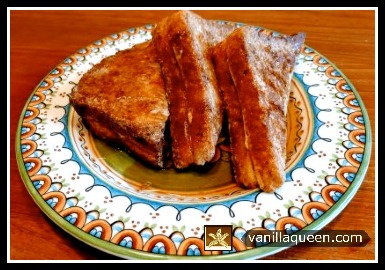 A favorite among my family, is Trader Joe's Pumpkin Spread – A cream cheese mixed with pumpkin pie spice, that is only available between October and January. Used as the filling in Stuffed French Toast, it's divine, and certainly earns it's place at the holiday table!
Print
Pumpkin Spice Stuffed French Toast
1 container Trader Joe's Pumpkin Spread*
16 slices of whole wheat or white bread
2 eggs
1 splash of milk
2 teaspoons Rain's Choice pure Vanilla Extract
1 tablespoon ground cinnamon
1/4 stick of butter
Instructions
Heat a griddle pan or cast iron skillet – melt enough butter on the surface to coat the pan.
Gently toast the bread on the buttered skillet, flipping mid way through to heat both sides.
Remove the toast from the pan and place on a cutting board.
Spread 8 pieces of toast, generously, with Pumpkin Spread.
Place the remaining pieces of toast over the Pumpkin Spread toast, creating a sandwich. Cut in triangles. Set aside.
In a glass pie pan or soup plate, mix the eggs, milk, vanilla and cinnamon until blended.
Reheat the griddle or skillet with the remaining butter.
Dip the sandwich triangles in the egg mixture making sure both sides are coated.
Pan fry the french toast on both sides until golden.
Remove from pan and plate while still hot.
Serve with hot maple syrup.
Notes
Serves 5-6
*If Pumpkin Spread is out of season, or you don't live near a Trader Joe's, you can make your own with:
1 8oz. package cream cheese
1 Tablespoon ground cinnamon
1/4 teaspoon ground cloves
1/4 teaspoon ground nutmeg
1/4 teaspoon ground ginger
1/2 teaspoon allspice
Cream the cream cheese with a fork, gently distributing the spices until well blended. Refrigerate until needed.
Latest posts by Serena Rain
(see all)