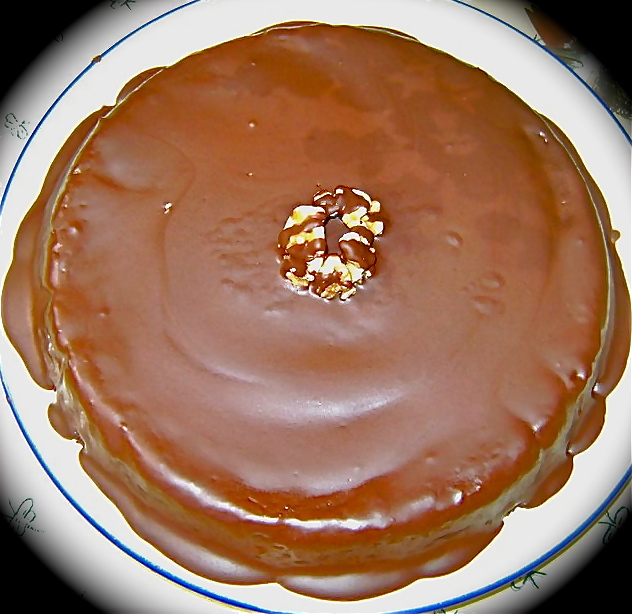 This rich, creamy, dense flourless chocolate cake serves as a perfect dish for Passover Seder. A little goes a long way, so it can easily serve eight, but it also keeps well for left overs. A delightful dessert for those on a gluten free diet, this cake is versatile and delicious. However, don't expect leftovers unless you are four or less enjoying this cake. It's exceptionally good! Another thing I love about this cake is how the honey makes the glaze glisten. A wonderful way to celebrate the ancient land of milk and honey!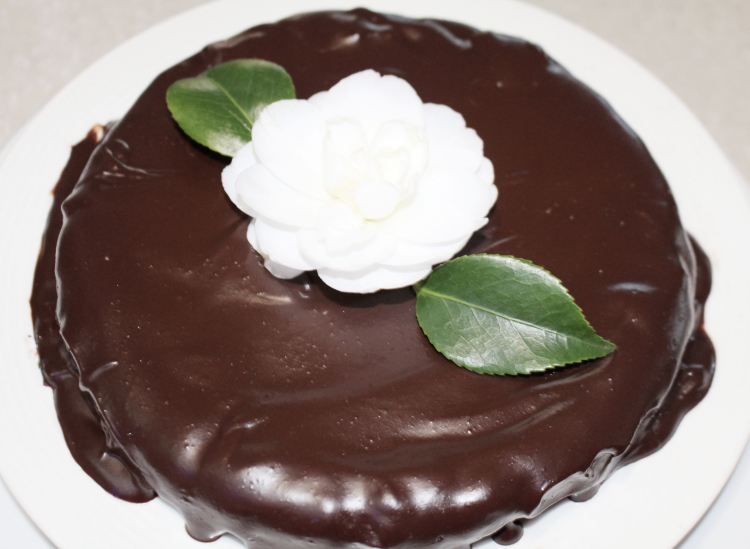 Print
Flo Braker's Flourless Chocolate Torte
Cake
4 ounces (1 stick) unsalted butter
4 ounces semisweet or bittersweet chocolate, coarsely chopped
2/3 cup Rain's Choice Vanilla Sugar
1 Tablespoon Grand Marnier
1 tablespoon orange zest
3 large eggs
1 1/2 cups walnuts, finely ground to yield 2 cups
Glaze
3 ounces (3/4 stick) unsalted butter
6 ounces bittersweet chocolate
1 tablespoon honey
Decoration
3 walnut halves – drizzled in chocolate
Instructions
Preheat oven 375 degrees F.
Butter and flour an 8 by 2 inch round cake pan, then line with parchment paper.
Cake
Melt the butter and chocolate in a small, heavy saucepan, over low heat, stirring until smooth. Transfer the chocolate to a large bowl and mix in the sugar, orange zest and Grand Marnier.
Let cool 5 minutes.
Stir in the eggs, one at a time, and blend thoroughly. Stir in ground walnuts.
Pour the batter into the prepared pan and bake for 25 minutes.
The cake should feel soft but not liquid when gently pressed in center. Do not over bake.
Let cool 15-20 on a wire rack before releasing the cake from the pan.
Release the cake from the pan, peel off the parchment paper and discard. Finish cooling.
Glaze
Put the chocolate and butter in a 1 quart glass bowl and microwave in 30 second increments, stirring in between until smooth and shiny. Gently stir in the honey.
Invert the cake onto a cardboard round, and if you have one, on a decorator's turntable.
Using a metal icing spatula, apply a thin coating of the glaze over the top and sides of the cake. Allow to cool.
Place the cake, on the cardboard round, onto a wire rack over a rimmed baking sheet.
Pour the glaze onto the center of the cake, and gently tilting the cake let the glaze flow over the top and sides of the cake. Set the cake on a serving plate and once cooled place the 3 walnut halves in the center in the form of a triangle. Drizzle with chocolate and serve.
Latest posts by Serena Rain
(see all)