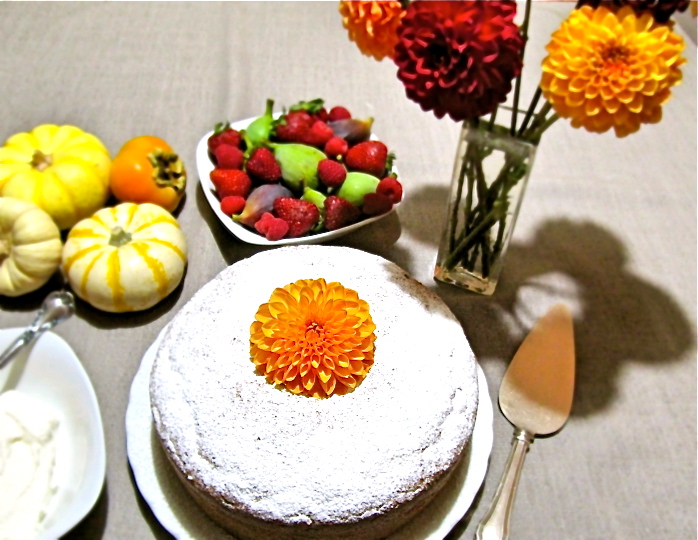 Pumpkin and vanilla were meant for each other. Ditto with all the spices in this incredibly light, moist, delicious cake. Really, what could say autumn better than a freshly baked Pumpkin Chiffon Cake, a Pumpkin Pie or Pumpkin Spice Latte? Over the years I've really come to appreciate really fresh spices. I grate my nutmeg and grind allspice and cinnamon in a coffee grinder dedicated just for spices. The flavors really pop when they're fresh. And our dear vanilla is the backup chorus once again, making sure all the flavors work synergistically.

This cake is a perfect choice for an afternoon party or when you want a lighter alternative to pumpkin or sweet potato pie. Feel free to substitute butternut squash for the pumpkin if you're so inclined. I do strongly suggest a good quality oil such as sunflower, grapeseed or an lightly flavored walnut oil. You could even use a delicate, light- flavored olive oil.
When I made this cake recently, everyone said they would just take a bite and save the rest for after dinner. Guess what? Every single person ate it all right away. I recommend serving it with lightly sweetened creme fraiche whipped cream, but I'll bet it wouldn't be overkill to serve with pumpkin gelato.
Print
Pumpkin Chiffon Cake
2 cups sifted flour
1–1/2 cups sugar
1 tablespoon baking powder
1/2 teaspoon salt
1 teaspoon cinnamon
1/2 teaspoon cloves
1/2 teaspoon nutmeg
3/4 teaspoon Vanilla Bean Paste (or) 1-1/2 teaspoons Rain's Choice pure Vanilla Extract
7 large eggs, separated
3/4 cup canned pumpkin
1/2 cup good quality neutral oil
1/2 cup water
1/2 teaspoon cream of tartar
Instructions
Sift dry ingredients together. Using a stand or hand mixer, blend together vanilla, egg yolks, pumpkin, oil and water. Make a hole in the dry ingredients and add pumpkin mixture, then beat all ingredients until smooth.
Beat egg whites until foamy, add cream of tartar, and beat until egg whites have stiff peaks. Fold into pumpkin batter.
Bake in a 10-inch un-oiled tube pan for 55 minutes at 325 degrees. Raise heat to 350 degrees and bake 15 minutes longer.
Remove from oven and invert pan to cool.
To remove, carefully run a table knife around the outside of the cake, then between the tube and the cake. Using a spatula, carefully release cake from the base of the pan. Slide onto a plate and then flip it to another plate.
Dust with powdered sugar. Serve with lightly sweetened whipped cream and fresh, seasonal fruit if desired.
Look Delicious?
Pin it for the world to see!
Latest posts by Patricia Rain
(see all)