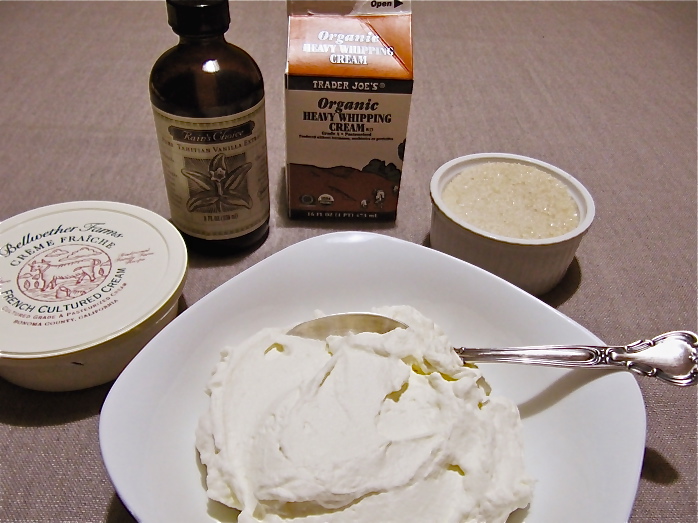 Adding a little creme fraiche when you are whipping cream will help to stabilize it. No deflating, leaking or other problems, and no need to add cornstarch or gelatin to keep the whipped cream looking good on top of the pie or cake. Creme Fraiche is a lightly cultured cream so it has a pleasant tartness to it — not too pronounced but just enough to give the whipped cream a slight edge.
You don't need much Creme Fraiche but the good news is that it keeps well in the refrigerator and is a treat by itself over fresh berries and stone fruits, topped on waffles or pancakes, or spreading on toast or croissants. You can also substitute it for heavy cream for finishing a savory cream sauce. You'll wonder why you never used it before once you see how nicely your whipped cream turns out and how good it is on so many other things.
Most recipes suggest fold the creme fraiche into the already whipped cream. Personally, I add it to the cream and whip them together. You can do whichever you prefer. You'll find that leftover whipped cream won't need whisking the following day.
Print
Creme Fraiche Whipped Cream
1 cup heavy cream, preferably not ultra-pasturized
1/4 cup Creme Fraiche
3/4 teaspoon Rain's Choice pure Vanilla Extract
1–3 tablespoons sugar (to taste)
Instructions
Using a hand mixer or whisk, whip cream and Creme Fraiche until it forms bubbles. Add the sugar and vanilla extract and keep whipping until it has reached the thickness you want. If you have over whipped it, carefully fold in a little whipping cream at a time until it reaches the desired consistency.
Latest posts by Patricia Rain
(see all)