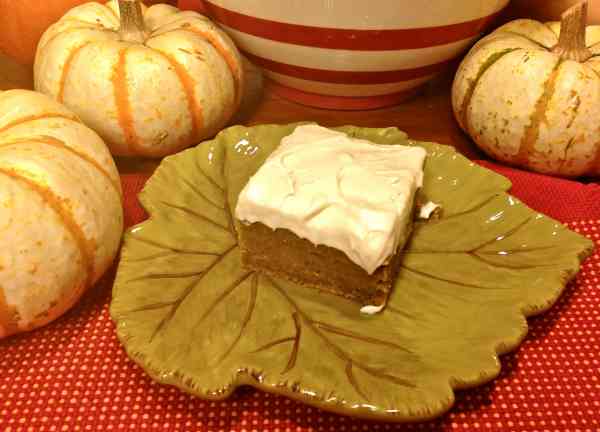 There's something magical about desserts made with pumpkin. Maybe it's the spices as I feel that way about carrot cake too. These brownies are perfect for a cozy evening, especially with a good cup of vanilla tea.
Look Delicious?
Pin it for the world to see!
Print
Pumpkin Brownies with Vanilla Frosting
Brownies
2 eggs, beaten
1/2 cup brown sugar, packed
1/4 cup honey
1 cup pumpkin puree
1 tablespoon Rain's Choice pure Vanilla Extract
1/2 cup melted butter
2 cups flour
1 teaspoon cinnamon
1/2 teaspoon each salt, baking powder and ginger
1/4 teaspoon each allspice and cloves
1 cup chopped, toasted pecans
Vanilla Frosting
3 ounces of cream cheese, softened
1 teaspoon cream or milk
1 tablespoon Rain's Choice pure Vanilla Extract
2–1/2 cups powdered sugar
Instructions
Brownies
Preheat oven to 350 degrees. Butter a 9x9x2 inch pan
Cream together eggs, butter, sugar, honey, pumpkin and vanilla extract.
In a separate bowl, stir together flour, cinnamon, salt, baking powder, ginger, cloves and allspice. Slowly add dry ingredients to creamed mixture, stirring just to combine. Fold in pecans. Pour batter into pan.
Bake about 25 minutes, or until toothpick inserted in center comes out clean. Place on a wire rack and cool completely in the pan. Spread cool brownies with vanilla frosting, then allow to set. If necessary, chill until set, then cut into bars.
Frosting
Cream together ingredients, gradually adding sugar. Add more milk or cream if necessary to bring to easy-mixing consistency.
Latest posts by Patricia Rain
(see all)