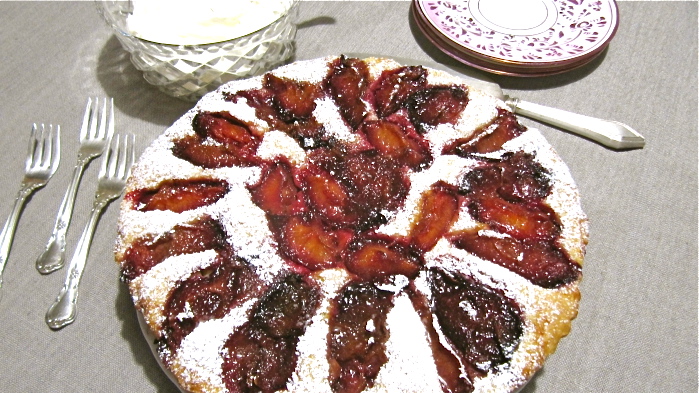 This delicate, delicious, absolutely-must-make cake recipe comes from Maria Reiz Springer. Now living in Maryland, Maria is from Austria and has an infinite number of amazing European dessert recipes, and usually a wonderful story that goes with the recipe. Maria has a home cooking school and is truly a master baker. The plum cake can be made with other stone fruits as well, but if you are lucky enough to have French plums, they are both the traditional plum used as well as divine in this cake.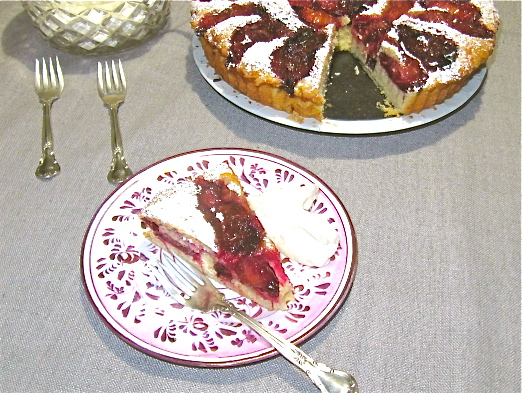 Print
European Plum Cake
3/4 cup unsalted butter at room temperature
1 cup sugar
2 large eggs
zest of 1 to 2 lemons – depending on the size of the lemons
2 teaspoons Rain's Choice pure Vanilla Extract
2–1/2 cups unbleached flour
2 teaspoons baking powder
1/2 cup milk
2 pounds plums, stones removed and sliced
Instructions
Preheat oven to 350 degrees F.
Grease a 10 inch tart pan with a removable bottom.
Beat the butter and sugar until very light in color, and very fluffy, about five minutes. Add the eggs, one at a time, and incorporate them in well. Add the zest of the lemons and vanilla extract.
Sift flour with baking powder, then add the flour mixture to the butter, sugar mixture, alternating with the milk. Mix well until it becomes a smooth, soft dough. Transfer the dough to the tart pan and smooth it with a spatula.
Place the cut plum sections, skin-side down, onto the dough.
Bake about 1 hour or until a toothpick comes out clean.
Cool the cake on a rack, then transfer it onto a serving platter. Dust with powdered sugar.
Serve with softly whipped heavy cream sweetened with powdered sugar and flavored with vanilla before serving.
Look Delicious?
Pin it for the world to see!
Latest posts by Patricia Rain
(see all)