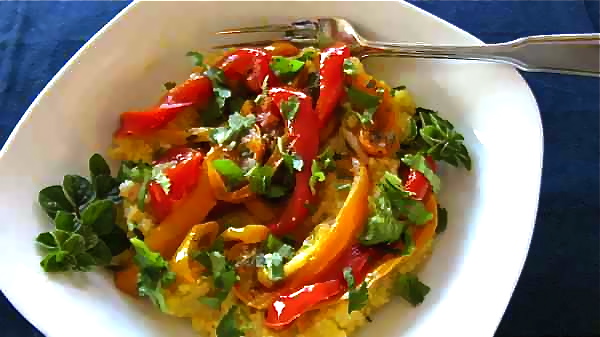 With so many of us dealing with food allergies such as wheat, gluten or dairy, as well as wanting fresh entree ideas that can be made ahead of time for weeknight dinners, I've been rewriting some of our recipe base to brighten up our meals and make them both healthy and weeknight friendly.
Peperonata is a home run as it's both vegan and an ideal weeknight recipe. You can prepare it ahead of time and assemble it quickly when you're ready to eat. You can even double the recipe and take leftovers for lunch.
Peperonata is an Italian recipe, traditionally made with bell peppers, onions and tomatoes. It can include hot peppers or not. Carol Fenster's cookbook, 125 Gluten-Free Vegetarian Recipes is the inspiration for this recipe, but I have changed it some and encourage you to adapt it however you wish.
I made this recipe recently as an entree for friends who are vegan. I slow-cooked the peppers in olive oil along with sliced garlic cloves and onions. The peppers become meltingly delicious and the oil was delicately flavored with the slightly caramelized vegetables. I added sauteed wild mushrooms to the recipe to give it a "meatier" quality. The vegetables and dressing can be made ahead of time and kept in the refrigerator. The polenta can be made ahead as well. Add a little hot broth or water, mix it well, and reheat it in the oven or microwave. I use a very coarse grind polenta, which typically requires more broth than the quicker cooking varieties, which is why I've added that you may need more broth. Add chopped tomatoes if you wish, substitute fresh basil for the cilantro and top the finished dish with good-quality Parmesan cheese. Buon Appetito!
Print
Peperonata on Soft Polenta
Soft Polenta
2 plus cups of vegetable broth
1–1/2 cups gluten-free polenta or corn grits
Salt to taste
1 tablespoon olive oil
1/4 teaspoon freshly ground black pepper
Peperonata
5 tablespoons olive oil, divided
2 tablespoons sherry or other vinegar
1 teaspoon Dijon mustard
2 tablespoons chopped fresh oregano, or 2 teaspoons dried, divided use
1 teaspoon ground coriander, divided use
1/2 teaspoon Rain's Choice pure Vanilla Extract
Sea salt to taste
1/8 teaspoon freshly ground black pepper
3 large bell peppers (red, orange and yellow), cored, seeded and cut into 1/4-inch strips
1 whole poblano pepper or pasilla pepper, cored, seeded, and cut into 1/4-inch strips
1 small red onion, diced
4 or 5 garlic cloves, sliced
1/2 cup chopped fresh cilantro, divided
Instructions
Heat 2 tablespoons of the olive oil in a skillet over medium-low heat. Cook the bell peppers, poblano pepper if using, red onion and garlic on low heat for 20 – 25 minutes or until the peppers and garlic are very soft. Stir occasionally and adjust the heat to low if peppers start to brown more than just on the edges. Add 1 tablespoon fresh or 1 teaspoon dried oregano and 1/2 teaspoon coriander, stir well, then cover and cook another 2 minutes.
While peppers are cooking, start the polenta and make the dressing.
In a heavy medium saucepan whisk together the broth, polenta, salt, oil and pepper. Bring the mixture to a boil over medium-high heat, then reduce the heat to low and cook according to package directions, stirring occasionally, until all the liquid is absorbed. Cooking time will vary depending on how finely the polenta is ground. You may need more broth to keep it at a soft consistency. Set aside, keeping it warm and stirring occasionally.
In a small jar with a tight fitting lid, shake together the remaining 3 tablespoons of the oil with the vinegar, mustard, 1 tablespoon fresh or 1 teaspoon dried oregano, 1/2 teaspoon coriander, vanilla and the salt and pepper, until smooth and slightly thickened.
When peppers are ready, pour half of the dressing over the peppers, and half of the cilantro, and toss to coat thoroughly.
Look Delicious?
Pin it for the world to see!
Latest posts by Patricia Rain
(see all)