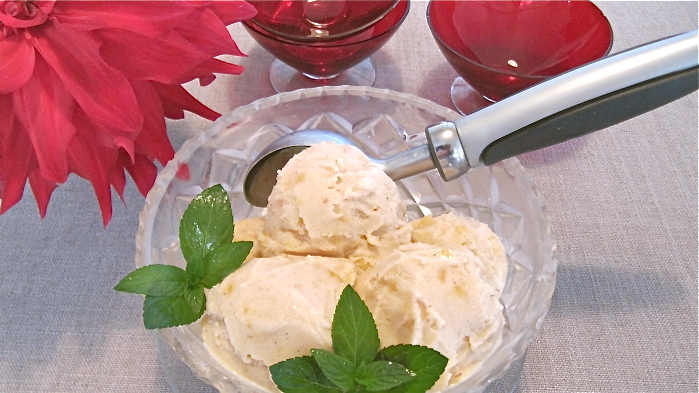 Homemade frozen yogurt has become one of my passions this summer. I've especially enjoyed using freestone peaches and strawberries. You can use berries, nectarines, mangoes, and even poached apples or pears with most of the juices drained. Simply follow the basic recipe and adjust sweetener (use sugar if you prefer) to taste. I add a little sugar to the fruits to get the juices running; you can skip that step if the fruit is already juicy.
Print
Peach Delight Frozen Yogurt
3 cups (24 ounces) Greek or regular plain, full-fat yogurt
2-cups white or yellow peaches or nectarines, finely chopped
About 2/3 cup honey (1/2 cup agave), or to taste
1–1/2 teaspoons Rain's Choice Tahitian Vanilla Extract
1 teaspoon ground cinnamon (optional)
Instructions
Peel and finely chop fruit, or put in food processor and pulse into finely chopped. Place in a large bowl. Stir in yogurt and blend well. Add honey, vanilla and cinnamon, if using, and stir well. Taste to adjust sweetness. You may also add a pinch of salt if you choose. Allow to sit for 30 minutes in the refrigerator, then transfer to ice cream canister and freeze according to manufacturer's instructions.
Serve immediately or transfer to a freezer container and freeze. The frozen yogurt will be a lovely yellow-white or yellow-pink depending on color of nectarines or peaches and will have nuggets of scrumptious fruit.
Makes approximately 1 quart.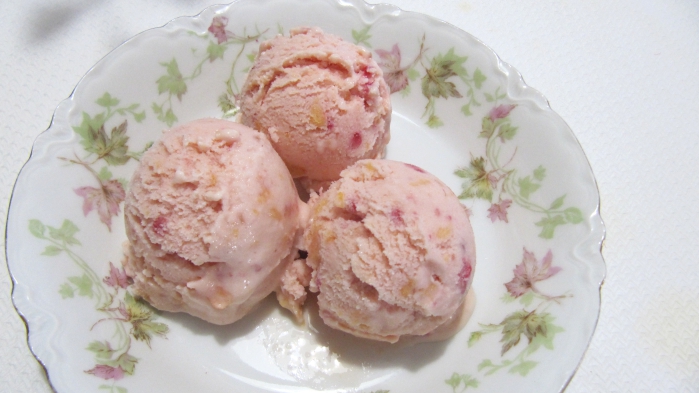 Raspberry Nectarine Frozen Yogurt
Latest posts by Patricia Rain
(see all)