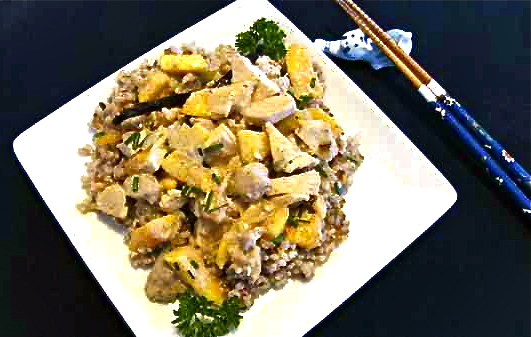 The small, sweet papayas of the Islands are abundant and delicious. Papaya is used interchangeably as a fruit and a vegetable in Pacific and Asian cuisine. You will want a ripe, but firm, papaya for this recipe. I used a three-rice medley for the base. You can use any rice or even pasta if you prefer.
Print
Papaya Chicken with Coconut Milk
4 chicken breasts, cut in 3/4 inch cubes
1 firm papaya
1 medium onion, chopped
3 tablespoons olive oil
1–3/4 cups coconut milk
1/2 teaspoon sugar
1 Tahitian Vanilla Bean, split lengthwise or 2 teaspoons Rain's Choice Tahitian Vanilla Extract
salt and pepper to taste
Instructions
In a saucepan, combine the coconut milk, sugar, and vanilla bean, and bring mixture almost to a boil. Remove from stove and allow to steep.
Peel the papaya, remove seeds, and cut into thin slices.
Heat olive oil in a large skillet, add chicken, and cook until nearly done. Add chopped onion and cook until the onion is translucent, about five minutes. Add the papaya slices and cook another five minutes.
While the chicken mixture is cooking, remove vanilla pod from coconut milk and scrape the seeds into the liquid.
Transfer chicken-papaya mixture to a serving platter. Turn heat up in skillet and add coconut milk. Bring to a boil and allow the sauce to reduce slightly. Pour over chicken mixture and serve over hot rice.
Latest posts by Patricia Rain
(see all)