Moroccan Orange Salad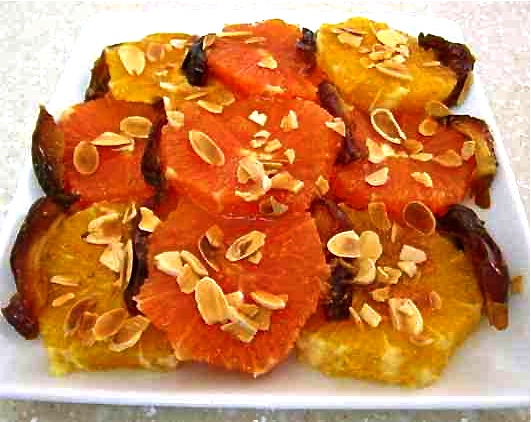 Orange salad is a typical Moroccan dish served along with lamb and vegetable soup (Harira) during Ramadan. It can also be used as a refreshing, light dessert for any festive celebration.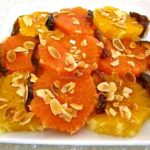 Moroccan Orange Salad
2014-11-08 16:19:06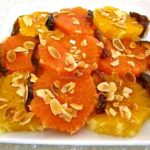 Ingredients
3 — 4 oranges, peeled and sliced
romaine leaves, washed and dried
1 tablespoon lemon juice
2 tablespoons fresh orange juice
3 tablespoons confectioners sugar
1/2 teaspoon Rain's Choice pure vanilla extract
1/2 teaspoon Ceylon cinnamon
8 dates, sliced lengthwise
1/2 cup blanched almonds, slivered or chopped
Instructions
In a small bowl combine lemon and orange juices, confectioners sugar, extract and cinnamon.
Arrange lettuce leaves on a serving plate. Layer oranges decoratively onto plate. Spoon juice/sugar mixture over the oranges and sprinkle with almonds and fresh dates. Chill until serving.
https://vanillaqueen.com/
Look Delicious?
Pin it for the world to see!
Patricia Rain
is an author, educator, culinary historian, and owner of The Vanilla Company (www.vanillaqueen.com), a socially conscious, product-driven information and education site dedicated to the promotion of pure, natural vanilla, and the support of vanilla farmers worldwide. She also does culinary presentations for food professionals, cooking schools, trade shows, food fairs, and private groups, and is a regular radio and TV guest.
Latest posts by Patricia Rain (see all)
Tags: Morrocan Orange Salad, North African Orange Salad, Orange and Date fruit dessert, Orange and Date Salad
Trackback from your site.