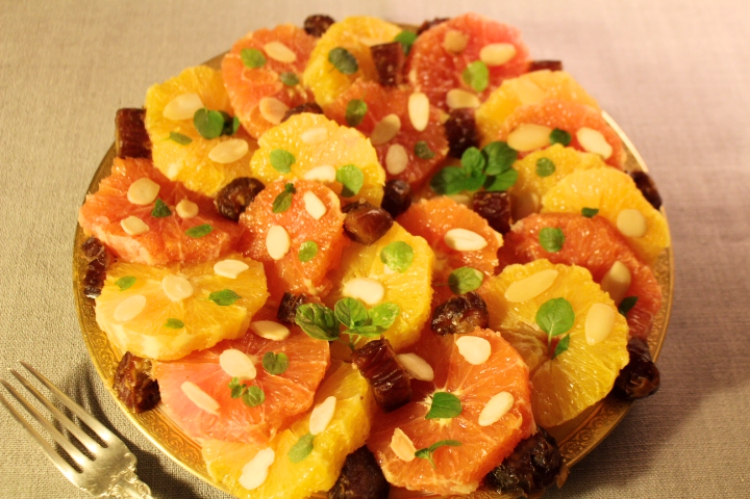 Moroccan Orange Salad is a traditional dish served along with lamb and vegetable soup (Harira) during Ramadan. It's a very refreshing and revitalizing salad for any occasion, especially during late winter and early spring when navel oranges come into season.
I've used here both the traditional Washington navel oranges (light orange) and the magnificent Cara Cara oranges, which are the color of ruby grapefruits and a bit sweeter than the standard navels. Interestingly, although a lot of people believe they are a cross between a grapefruit and an orange, they're actually a natural mutation of the Washington navel orange caused by the cross-pollination of the Washington navel and the Brazilian Bahia navel. This occurred on the Caracara hacienda, hence the name. As you can see, the two oranges together make a beautiful presentation. However, the Cara Cara navels have a shorter period of availability than the more standard navel oranges, so get the Cara Cara's as soon as possible. What I can say with certainty, whether the oranges are just one color or two, they will lift your spirits!
The traditional Moroccan orange salad contains dates (Medjool dates are especially good as they're usually soft, rich and sweet), lightly toasted almond slices, mint and a juice blend. However, I served this salad as a light dessert and added a splash of Grand Marnier for additional flavor. You could also substitute lightly toasted and chopped pistachios. Feel free to use with ingredients that you most enjoy.
Print
Moroccan Orange Salad
3 — 4 oranges, peeled and sliced
romaine leaves, washed and dried
1 tablespoon lemon juice
2 tablespoons fresh orange juice
3 tablespoons confectioners sugar
1/2 teaspoon Rain's Choice pure Vanilla Extract
1/2 teaspoon Ceylon cinnamon
8 dates, sliced lengthwise
1/2 cup blanched almonds, slivered or chopped
Instructions
In a small bowl combine lemon and orange juices, confectioners sugar, extract and cinnamon.
Arrange lettuce leaves on a serving plate. Layer oranges decoratively onto plate. Spoon juice/sugar mixture over the oranges and sprinkle with almonds and fresh dates. Chill until serving.
Look Delicious?
Pin it for the world to see!
Latest posts by Patricia Rain
(see all)