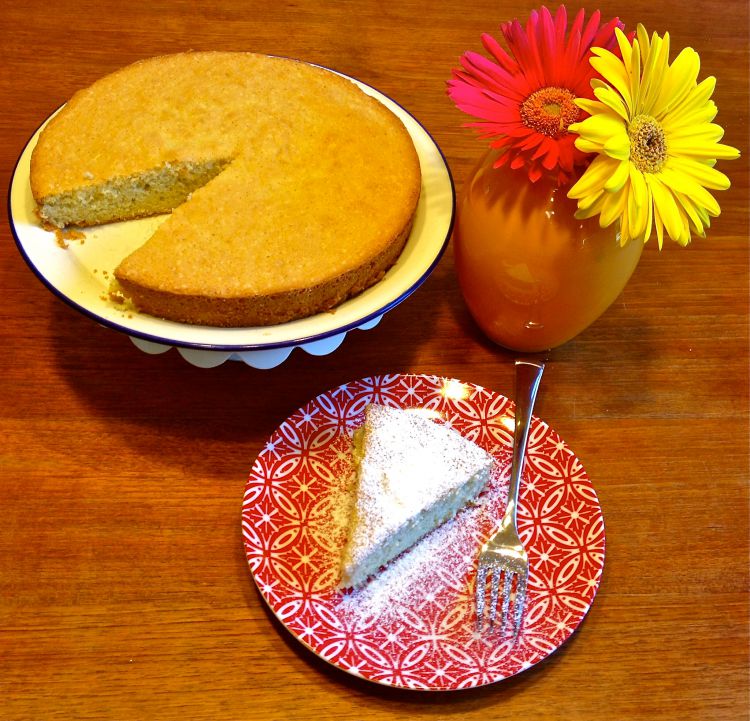 Excerpted from Flavor Flours by Alice Medrich (Artisan Books). Copyright © 2014. Photographs by Leigh Beisch.
Oat Flour Sponge Cake
Serves 8 to 10
Alice says, "Oat flour turns a plain-Jane sponge cake into something elegant with the subtle but distinct flavors of butterscotch or toffee. The crusty edges I picked off my first oat flour sponge cake were delicious with my coffee."
Print
Oat Flour Sponge Cake
3 tablespoons (45 grams) Clarified Butter or ghee
1 cup (100 grams) oat flour
2/3 cup (130 grams) sugar
4 large eggs
1/8 teaspoon salt
Equipment
8-by-3-inch round cake pan (or springform pan or cheesecake pan with removable bottom)
Stand mixer with whisk attachment
Sifter or medium-mesh strainer
Instructions
Position a rack in the lower third of the oven and preheat the oven to 350°F. Line the bottom of the pan with parchment paper but leave the sides ungreased.
Put the clarified butter in a small pot or microwavable container ready to reheat when needed, and have a 4- to 5-cup bowl ready to pour it into as well—the bowl must be big enough to allow you to fold some batter into the butter later.
Whisk the flour and 2 tablespoons of the sugar together thoroughly in a medium bowl.
Combine the remaining sugar, eggs, and salt in the bowl of the stand mixer and beat with the whisk attachment on high speed for 4 to 5 minutes. The mixture should be light colored and tripled in volume, and you should see well-defined tracks as the whisk spins; when the whisk is lifted, the mixture should fall in a thick, fluffy rope that dissolves slowly on the surface of the batter.
Just before the eggs are ready, heat the clarified butter until very hot and pour it into the reserved bowl.
Remove the bowl from the mixer. Sift one-third of the flour over the eggs. Fold with a large rubber spatula until the flour is almost blended into the batter. Repeat with half of the remaining flour. Repeat with the rest of the flour. Scrape about a quarter of the batter into the hot butter. Fold until the butter is completely blended into the batter. Scrape the buttery batter over the remaining batter and fold just until blended. Scrape the batter into the pan.
Bake until the cake is golden brown on top, 30 to 35 minutes. It will have puffed up and then settled level, but it won't have pulled away from the sides of the pan, and a toothpick inserted in the center should come out clean and dry. Set the pan on a rack.
Latest posts by Patricia Rain
(see all)