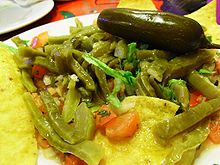 Nopal, Opuntia lasiacanta, is the paddle of the prickly pear cactus. The cactus itself is native to the Southern U.S., Mexico, and Central and South America, but has been naturalized around the world. It grows from sea level to as high as 15,000 feet and tolerates a wide variety of soil and climate conditions.
The fruits, known as "tunas," ripen from early spring through autumn, depending on the variety. The paddles are known as "nopales" and are prepared as a vegetable. Fruits vary from small and round, to three or more inches long and cylindrical. The skin and flesh can be white, green, yellow, orange, red, purple or brown. They can be juicy or dry, sweet or very acid. Some varieties are inedible and some are quite fibrous. The fruits are extremely popular in Mexico, and both the fruits and paddles are important components of rural Mexican cuisine.
Both the nopales and the tunas are served in a variety of ways, both raw and cooked. I was served a delicious salad made with the tunas in Mexico one January and was told that the fruit was especially sweet and juicy as it had been a rainy year. The nopales are good if prepared right; overcooked, they become slimy.
The sap from the nopal paddles can be used similarly to the aloe vera plant, as first aid for cuts, burns or bruises. The paddles have a slightly laxative effect, especially when young. They are considered good for stabilizing blood glucose and are being studied in Mexico as a remedy for diabetes.
Latest posts by Patricia Rain
(see all)