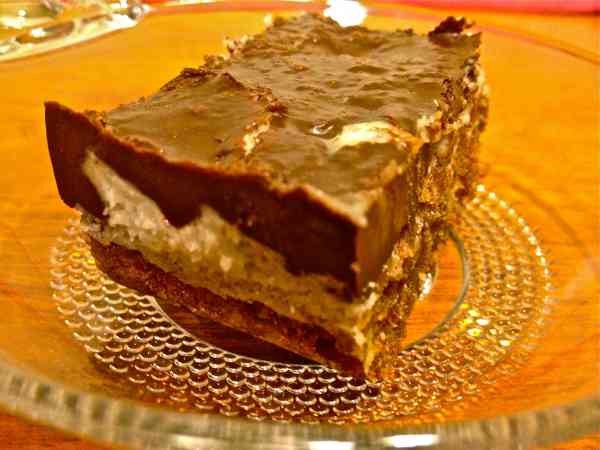 Cookie? Cake? Extreme Candy Bar?
It's hard to know how to define a Nanaimo bar with it's cookie crust, icing filling and chocolatey topping, but whatever you call it and however you serve it, one thing's for sure… It's decadent and delicious!

Print
Nanaimo Bars
6 tablespoons butter
1/4 cup powdered sugar
1/4 cup unsweetened cocoa powder
1 teaspoon Rain's Choice pure Vanilla Extract
1 egg, lightly beaten
1 3/4 cup graham cracker crumbs
1 cup sweetened flaked coconut
1/2 cup chopped and toasted pecans or walnuts
Sugar Filling
1/2 cup butter
2 cups powdered sugar
2 tablespoons milk
1 tablespoon Rain's Choice pure Vanilla Extract
Chocolate Topping
2 tablespoons butter
3 1-ounce squares semisweet chocolate
Instructions
In a large saucepan, combine first 3 ingredients. Stir over low heat until butter is melted. Remove from heat and add 1 teaspoon vanilla and egg; mix well. Stir in crumbs, coconut and nuts. Press mixture firmly into bottom of an 8″ square baking dish.
Bake at 350 degrees for 20 minutes. Remove pan to wire rack and let cool.
Beat butter, powdered sugar, milk, and vanilla until light and fluffy. Spread over crust. Over low heat on stovetop, or in microwave, melt together the remaining 2 tablespoons butter and chocolate squares. Mix until smooth. Spread over filling. Cover and chill at least 1 hour.
Makes 24 squares.
Look Delicious? Pin it for the world to see!
Latest posts by Patricia Rain
(see all)