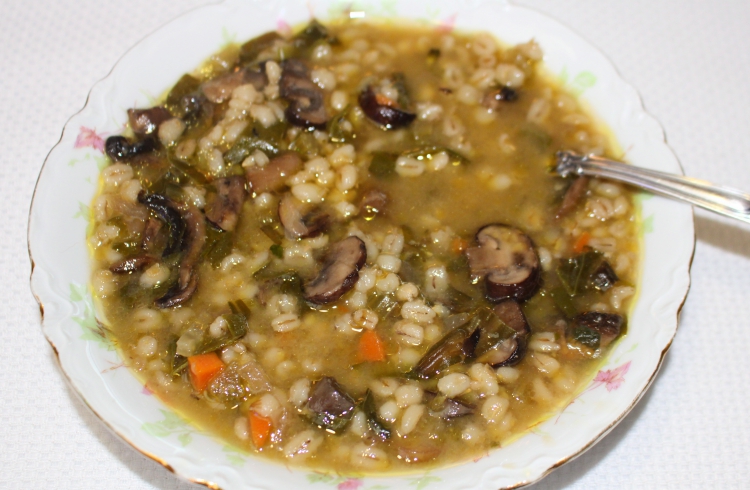 What's not to love about soup? It doesn't require a lot of kitchen experience to make a good soup. It's warming, nutritious, and good any time of the day, especially when it's chilly or wet outside or you're under the weather. Further, soups are a great way to use up leftovers, and soup, like pasta, makes an inexpensive, comforting meal. I keep quarts of homemade soup in my freezer for all the reasons noted above, and Mushroom Barley Soup is one of my favorites.

My recipe is vegetarian, but feel free to add leftover chicken, or chuck roast or brisket to "beef it up." Choose the broth that best enhances whatever meat you add.
You will notice that I've added miso and tamari (or soy sauce) to this recipe. Why? Because miso and tamari bring umami, the deep savory notes that enhance mushrooms and broth alike. Don't feel compelled to add vanilla paste to this soup. I include it in the recipe only because, years ago, I posted a recipe that didn't include vanilla. An incensed reader wanted to know why vanilla was missing from the recipe. While yes, the vanilla could add to the flavor of the soup, the miso and tamari are dominant flavors that would overpower the more delicate vanilla.
For those of you who are gluten-intolerant, consider substituting arborio, carnaroli or loto rice to create body to the soup. These are starchy rice varieties that will thicken the soup in the same way that barley does. Arborio is the most easily available.
Print
Mushroom Barley Soup
3–4 tablespoons oil, such as olive or avocado, divided use
8 ounces of mushrooms – can be mixed varieties — sliced or chopped
1 medium-to-large onion, diced
2 carrots, diced or sliced into coins
2 – 3 celery stalks, diced or thinly sliced
3/4 – 1 cup pearled barley*
4 cups vegetable, mushroom, chicken or beef broth plus 2 – 3 cups water or additional broth, as needed
1 tablespoon white or red miso or 1 packet dried miso soup
tamari or soy sauce to taste
2 teaspoons vanilla paste (optional)
Chopped parsley or chives for garnish
Instructions
In a stock pot or Dutch oven, heat 1-1/2 tablespoons of oil. When oil glistens, add between 1/3 and 1/2 of the mushrooms and sauté until brown, periodically gently pressing mushrooms to help release moisture. Don't over-crowd them. When browned, remove into a bowl and set aside. Repeat with the balance of mushrooms, adding a small amount of additional oil as needed. When browned, add to bowl with cooked mushrooms and scrape up any bits and pieces and add to the bowl.
Add another tablespoon of oil to the pot and heat until it glistens, then add onions, and sauté until golden. Add carrots, celery and barley, blending the ingredients together, then add in the mushrooms and 4 cups of broth. Bring to a boil, then reduce heat to a high simmer or slow boil. Check and stir the pot periodically to make sure there is adequate stock. When the barley is cooked (about an hour), turn off the heat and let the soup rest for an hour to allow the broth to cool down.
Check the broth level and add more broth or water to the soup to create your preferred balance of vegetables to broth. Stir in the miso or add a packet of dried miso soup. Add tamari or soy sauce to taste, then add vanilla paste if using. Heat soup, but avoid boiling if possible to maintain the integrity of the miso.
Serve in bowls and garnish with parsley or chives.
Latest posts by Patricia Rain
(see all)