Ahhhhh, maple everything!! As my Vermont friend Sandra sent me 1/2 gallon of maple syrup, 1 pound of maple sugar, a box of maple leaf candies and a jar of maple butter, I embarked on a maple
desserts splurge. Wouldn't you??
When I visited Sandra in St. Johnsbury in 2002, we went to the Goodwin Family's sugaring shack. Although it was April and sugaring had ended in Vermont, the processing was still underway and the place was buzzing. There were molds filled with syrup drying into maple candies. People were picking up jugs of syrup, and boxes ready to ship lined the hallway.
Unfortunately, due to climate change, the sugaring industries in Vermont, New Hampshire and other traditional American sugaring regions are increasingly less productive. Under the best of circumstances, there is a narrow window of time to tap the trees for their luxurious syrup, so this is a blow to the industry and all those who participate is this luxuriously sweet niche.
Maple sugar comes from Acer saccarum, the sugar maple tree, though red and black maples and some birch trees can be tapped as well. The tree's natural starches will turn to sugar when the daily temperatures again rise to 40 degrees and there is still a night freeze. When the temperature rises to 45 degrees, the sugars in the trees revert to starch. The past few years there has been a lot of rain in the Northeast, which means it's not cold enough at night. A very narrow window, indeed.
As I briefly explain on the page where my recipe for maple pecan shortbread resides, I was blessed with an an aunt Oolie and uncle Angus McGoogan. No one would believe their names if they graced the pages of a novel, but there it is. They lived in Edmonton Alberta, and Oolie was taught by Angus' family how to make their family recipe for shortbread. Now, this was a time when recipes were shared less in books and more on sheets of paper hastily jotted down and passed from baker to baker. However, most bakers had secrets never shared except between family members.
Until food became an urban pastime, bakers stuck with one or two, maybe three
fabulous recipes for which they were known. As my grandmother was Oolie's big sister, she was privy to the secret to the family's shortbread recipe and, as the eldest grandchild and the one who all but lived in the kitchen, I was taught as well.
Only I broke with tradition and experimented and played with recipes to see how far they could go. And here I am sharing with you shortbread with maple sugar, toasted pecans and vanilla, three ingredients that never were part of the family tradition. Not Aunt Oolie's Maple Pecan Shortbread.
Another childhood favorite of mine was New Orleans pecan pralines. While I like the fantasy that I regularly visited New Orleans growing up, the truth is I've only been there once. My mother's birthday was in December and December was the annual party for one of my father's business clients. Lucky for them, it was celebrated in New Orleans each year. They dined on oysters and Shrimp Remoulade, listened to Dixieland jazz and probably celebrated getting away from us kids to be alone together.
My mother always brought back pecan pralines for us kids and I fell passionately for their sweet, sticky, crumbly, nut-crunchy deliciousness. My childhood vision of New Orleans was that there was Shrimp Remoulade and New Orleans Pralines sold at every corner store and dive as well as all the fancy restaurants.
As you can imagine, when I finally visited New Orleans decades later, it was far better than my childhood dreams. I loved the architecture, the Gulf, the music, the wild edginess, and of course, the food. I ate my share of Shrimp Remoulade, beignets (no chicory coffee, however; I've never drunk coffee), and bought pralines from street vendors and in stores. I also toured the Pharmacy Museum and wore museum gloves while leafing through books from the early 19th century with documents on vanilla as a medicine, and discovered Bourbon French Parfums in the heart of the French Quarter and purchased vanilla perfume. I'd go back in a heartbeat if the opportunity arises.
In the meantime, I occasionally indulge myself by making New Orleans pralines. And, during the rare moments that I have a stash of maple sugar, I make them with half maple sugar and half cane sugar. If you are lucky enough to have a really large stash of maple sugar, by all means, don't bother with the cane sugar! And, if don't have maple sugar, substitute a blend of brown and white cane sugars.
One last caveat: I had a recipe found in a Cajun cookbook that I have used forever,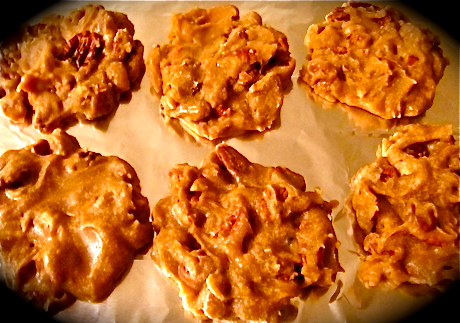 and it had two praline recipes — one using cream and another using evaporated milk. Most of the recipes online use evaporated milk, including the recipe from the New Orleans Cooking School.
I'm sorry, but I can't imagine that any of the old time recipes used anything less than pure fresh cream. If you must, go ahead and use evaporated milk, as it will work. Just know that it's not part of early praline tradition. But then again, neither is maple. New Orleans Pecan Pralines.
Did you like this post?
"Like" it, and share your thoughts in the comments below!
Latest posts by Patricia Rain
(see all)