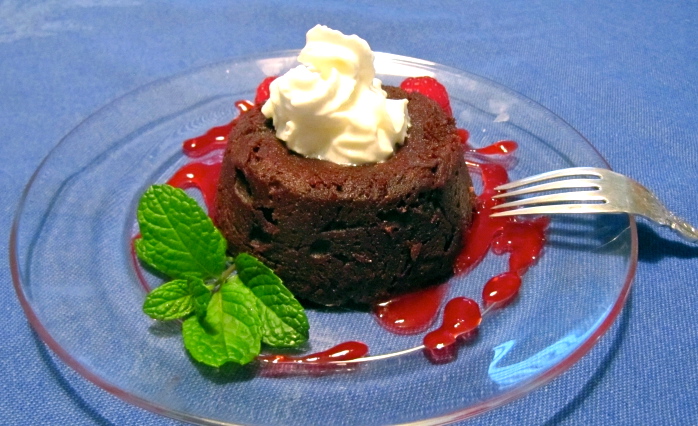 These cakes are my latest downfall. I discovered that you don't have to use them right away to enjoy the smooth
exterior and melted center of these chocolaty mini-cakes. Make the recipe, bake it off and use however many of the little cakes you want. Wrap the rest and refrigerate or freeze. When you're ready for a rich chocolate hit, pop the room-temperature cakelet into the microwave for about 10 seconds. The center will be soft and oozy and ready to give you the rush you've been hoping for. These cakelets are really rich. If you want three-bite desserts, make eight or ten instead of six.
Print
Chocolate Molten Lava Cakes
Everyone's favorite dessert recipe!
4 tablespoons unsalted butter, room temperature, plus more for muffin tins
1/3 cup cane sugar
3 large eggs
3/4 teaspoon Vanilla Bean Paste or 2 teaspoons Rain's Choice pure Vanilla Extract
1/3 cup all-purpose flour
1/4 teaspoon salt
8 ounces good quality bittersweet chocolate, melted (Guittard is good)
Confectioners' sugar, for dusting
Whipped Cream and fresh berries for serving
Instructions
Preheat oven to 400 degrees. Generously butter 6 – 8 cups of a standard muffin tin. If you would prefer, you can use ramekins. Set aside.
Using an electric mixer, cream the butter and granulated sugar until fluffy. Add eggs one at a time, beating well after each addition. Add pure vanilla paste or extract.
With the mixer on low speed, beat in flour and salt until just combined. Beat in chocolate until just combined. Divide batter evenly among prepared muffin cups.
Place muffin tin on a baking sheet; bake just until tops of the cakes no longer jiggle when the pan is lightly shaken, 8 to 10 minutes. Remove from oven; let stand 10 minutes.
To serve, turn out cakes, and place on serving plates, bottom sides up. Dust with confectioners' sugar, and serve with whipped cream and fresh berries if desired.
Look Delicious?
Pin it for the world to see!
Latest posts by Patricia Rain
(see all)