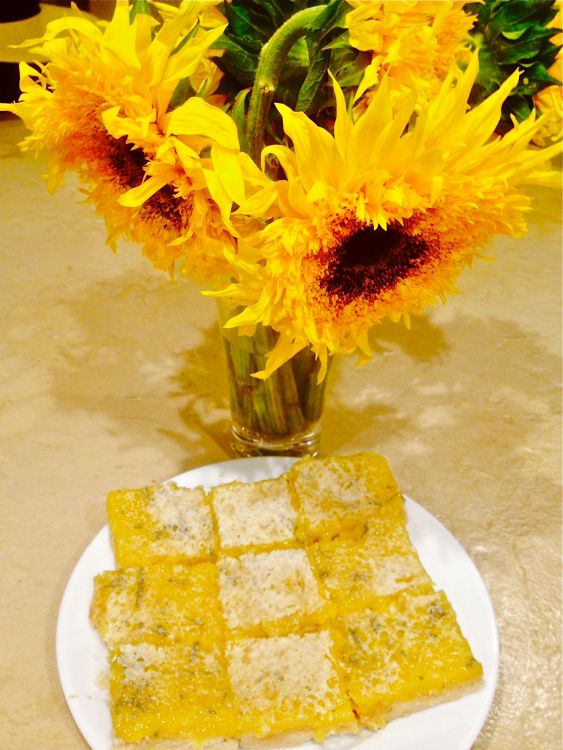 Mojito Bars are the adult version of their kid friendly cousin, the Lemon Bar, and will jazz up the dessert table at your late summer night party. Cool and tangy they pack a punch and will delight your guests with their flavorful zest!
Print
Mojito Bars
1 cup butter or shortening, softened
1/2 cup powdered sugar
2 1/3 cups all purpose flour
1 teaspoon Rain's Choice pure Vanilla Extract
4 eggs
2 cups granulated sugar
1 teaspoon grated lime peel
6 tablespoons lime juice
8–10 minced fresh spearmint leaves
1/4 cup white rum
splash of mint extract – preferably spearmint, but peppermint extract is fine too
powdered sugar for dusting
Instructions
Pre-heat oven to 350 degrees.
Prepare a 9×13 glass baking dish, by oiling and flouring it. Set aside.
In a large mixer, beat the butter and powdered sugar together until creamy. Add the vanilla extract and lime zest. Beat 2 cups of the flour into the sugar and butter mixture, 1/4 cup at a time, until well blended.
Spread the dough across the prepared baking dish and press into the pan until evenly distributed.
Bake for 20 minutes.
While the crust is baking, prepare the Mojito filling.
In a small bowl, beat the eggs until light. In a medium sized mixing bowl, combine the rum, lime juice, sugar and mint leaves and mash the leaves into the sugar to draw out the mint flavor. Add the splash of mint extract. Beat the eggs into the sugar mix and blend in the remaining 1/3 cup flour.
Pour the Mojito filling over the baked crust and return to the oven to bake for an additional 15 – 20 minutes or until the topping is golden. Remove from the oven and let cool. While still slightly warm sift powdered sugar over the top.
Cut into square bars and serve.
Latest posts by Serena Rain
(see all)