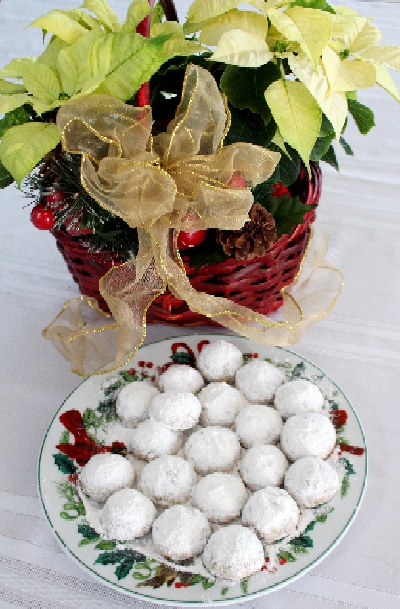 Whenever I think about holiday baking, Russian Tea Cakes (aka Mexican Wedding Cookies) are at the forefront of my mind. What's not to love about the buttery, crumbly deliciousness of these cookies. with their fragrant toasted nuts and powdered sugar spilling everywhere? Okay, the powdered sugar part can be annoying. What I do love about these cookies is that they're pretty much popular worldwide with essentially the same ingredients though some come with a few special touches.
I recently found a unique version of these cookies in Sunset Magazine. Created by Yigit Pura of "Tout Sweet Patisserie," they are noted for their extreme crispness and toasty-brown butter flavor. I also like that they're made with vanilla bean paste. The recipe calls for 1 tablespoon cognac or brandy. Prefer a different alcohol or want to substitute a liqueur? Why not? And, if you don't want alcohol, you can substitute milk.
Yigit suggests creating cookies 1-1/2 tablespoons each. I personally prefer these cookies smaller because the powdered sugar can be overwhelming with big cookies. Just like the alcohol used, you get to decide on the size you'd like to make the cookies. Just remember to adjust the bake time accordingly.
Although the photo of these cookies was taken with a holiday theme, whether we call them Russian Tea Cakes, Mexican Wedding Cakes, or by any of their many other names, they are always a welcome cookie, no matter the time of year.
Print
Russian Tea Cakes
A fresh spin on an iconic favorite
1 cup (140 g) hazelnuts (can substitute different nuts)
1 cup plus 6 tablespoons (310 g) unsalted butter, cut into 1/2-inch chunks, at cool room temperature
1/3 cup granulated sugar
3/4 teaspoon kosher salt
Scant 1 tablespoon (10 g) Vanilla Bean Paste
1 tablespoon cognac or brandy
3 cups plus 2 tablespoons (435 g) flour
About 1–1/2 cups powdered sugar for rolling
Instructions
Preheat oven to 325 degrees. Toast hazelnuts on a rimmed baking sheet until light golden brown and skins start to split, 8 to 10 minutes. Rub warm nuts in a kitchen towel to remove most of the skins (it's okay if some stick). Let cool and chop coarsely.
Using a stand mixer with the paddle attachment (or a handheld mixer with beaters; cookies will be slightly crumblier), beat butter, granulated sugar and salt on medium speed until evenly mixed and fluffy, 4 to 5 minutes.
In a small bowl, whisk together vanilla bean paste and cognac. Scrape into butter mixture and mix to incorporate.
On low speed, gradually mix in flour, scraping bowl as needed. Add hazelnuts and mix 30 seconds more.
Immediately scoop cookies into 1-1/2 tablespoon (25g) portions and roll into balls. Chill, covered, at least 4 hours and up to 2 days.
Preheat oven to 325 degrees with racks in upper and lower thirds. Stack a baking sheet on a second sheet (to help cookies get evenly golden brown). Repeat with 2 more baking sheets. Line top sheet in each stack with parchment paper and set chilled cookie portions on parchment about 1 inch apart.
Bake cookies 20 minutes. Switch positions of pans and rotate each 180 degrees; then bake until medium golden brown, almost like biscotti, 25 – 30 minutes more. Slide parchment with cookies onto cooling racks and let cool completely.
Put powdered sugar in a large, wide bowl, then roll cookies in powdered sugar. Repeat, lightly pressing sugar onto cookies to form a thick, fluffy coat.
Notes
Pura recommends weighing ingredients on a kitchen scale as it's more precise.
Make ahead through step 5 up to 2 days, chilled airtight, or 2 months, frozen (thaw overnight in fridge before proceeding). Baked cookies, 2 to 3 days, airtight at room temperature, or up to 2 months frozen.
Look Delicious?
Pin it for the world to see!
Latest posts by Patricia Rain
(see all)