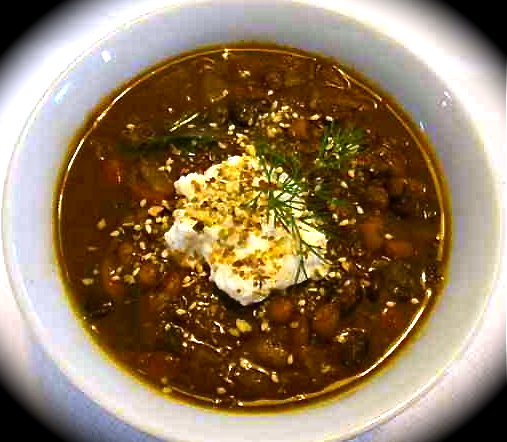 After dining at a local Afghani restaurant recently, I came away with a new favorite soup. I wouldn't have thought I'd fall in love with a bean soup! It's the combination of the herbs and spices that elevate this soup to genius status. Believe me, it's wonderful. Unless you are one of the people for whom cilantro and coriander taste like soap. (If you are, eliminate the coriander and you'll be fine.)
Here is my take on the soup I was served. I perused several Mashawa recipes online, which led me to believe that this particular soup can be made from a full spectrum of ingredients. You can use whatever beans you'd like though garbanzos, (also known as chickpeas), are the one variety that's consistently included. I added ground vanilla bean powder, hardly a traditional Afghani flavor, but you'll find that it works so well in this soup. I also added spinach for color and balance, turning it into a main course soup.
In order to make the soup reasonably quickly, I've used small, fast-cooking beans along with canned beans. Of course, feel free to use all dried beans if you prefer.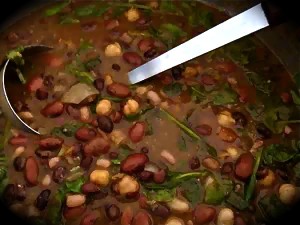 Print
Mashawa – A Simple, Delicious Afghani Soup
1 large onion, finely chopped
5 cloves of garlic, finely chopped
4 – 5 tablespoons olive oil
6 cups chicken or vegetable broth
3 tablespoons tomato paste
sea salt to taste
1 tablespoon finely ground coriander
1 tablespoon dried cumin
1 tablespoon cinnamon
1/2 teaspoon Rain's Choice ground Vanilla Bean Powder
1 teaspoon dried oregano or 1 tablespoon fresh oregano, minced
1 teaspoon freshly ground black pepper
1 1/2 cups dried adzuki beans (or substitute other small beans)
1 15-ounce can of kidney or Cannelini beans
1 15-ounce can of garbanzo beans (chickpeas)
1 15-ounce can of black beans
1/2 pound of cleaned spinach leaves (or to taste)
Topping
1 cup plain Greek yogurt
1/2 teaspoon fresh minced garlic
1/2 teaspoon salt
2 –3 tablespoons fresh mint, finely minced (optional)
Instructions
Heat 3 tablespoons oil in a deep, heavy pot, add onions and brown for 5 minutes. Add garlic and saute for another 2 minutes. Add the broth, tomato paste, salt, coriander, cumin, cinnamon, vanilla bean powder, pepper, and adzuki beans to the pot. Stir well. Bring to a boil and then turn the heat to low and cook for 25-35 minutes until the beans are soft.
In the meantime, rinse the canned beans in a colander then add the beans to the pot. Cook for 5-8 minutes. Add last of the olive oil, then add spinach. Taste and adjust seasonings to taste. Allow spinach a couple of minutes to soften and blend into the soup.
Mix the yogurt, garlic and salt. Stir until creamy.
Serve hot in a large bowl with a dollop of yogurt mixture and a piece of naan or flat bread.
Notes
One more possibility: I sprinkle Dukkah, a blend of seeds, nuts and spices over the yogurt. It adds additional texture and flavor. You can find Dukkah in specialty stores and some supermarkets. I will post a recipe for it very soon and will link it to this post.
Look Delicious?
Pin it for the world to see!
Latest posts by Patricia Rain
(see all)