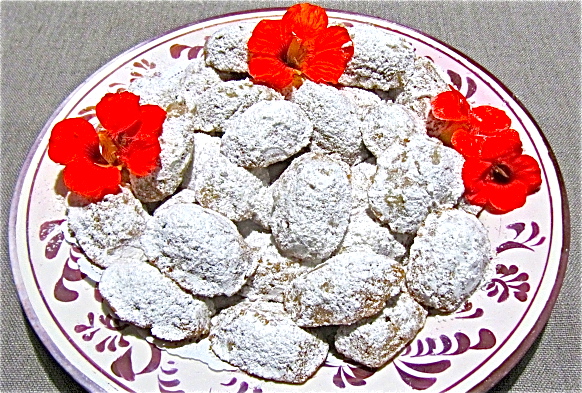 Madeleines are the quintessential French tea cake, with a mouth-pleasing crisp exterior, and a dense cake-like interior. If you enjoy serving beautiful desserts, it's worth investing in Madeleine molds, as the molds give them their distinctive hump in the middle and pleasing texture. When you've dusted them with powdered sugar, they're gorgeous and sophisticated.
Here are a couple of "Madeleine secrets." Although you can make Madeleines with regular melted butter, clarified butter makes the cakes crisper and it's a lot easier to unmold the tins as well. 2 sticks of butter will yield just about 3/4 cup clarified butter. You can also substitute ghee, which you can purchase in specialty stores and some supermarkets.
Another word about clarified butter. I personally love working with it. I use 1 pound good quality unsalted butter. It takes about 15 minutes to get the milk solids separated from the butterfat. Let it cool and store it in a jar in the refrigerator until you're ready to use it. It is stable for a long time and it's a joy to cook with as it doesn't burn because of the absence of the milk solids.
The batter must be chilled almost solid to produce the hump in the middle of the cake, the hallmark of a true Madeleine. You can chill the batter overnight covered with plastic wrap. Be sure to wipe off the molds, butter and chill them again if you are using the molds more than once while making the recipe. And finally, make certain that the oven is preheated before placing the tins in the oven.
I've been making Madeleines for years as they're perfect with tea in the afternoon or when you want a not-too-sweet treat. My tins are very small so the little cakes are two-bite delights.
If you are baking gluten-free, I suggest Bob's Red Mill 1-to-1. I also have noticed that something curious happens when I bake Madelaines with gluten-free flours. With wheat flour, apparently the gluten strands helps to keep the butter from separating from the batter. With gluten-free flour, however, it's difficult to keep the emulsion intact and the clarified butter became a chilled disc underneath the batter.
If this happens with regular or gluten-free flours, don't panic. Break up the butter then use an electric mixer to blend it all together. Chill the batter again and finish baking.
What I've learned about all of this is that these dainty delicacies can take some abuse and still come out fine. And, with the vanilla paste, they are divinely delicious. Marcel Proust might never have had such a vanilla Madeleine, but I suspect he would have approved.
Print
Vanilla-Scented Madeleines
3 extra large eggs at room temperature or 3 large eggs plus 1 egg white
3/4 cup granulated sugar
2 teaspoons Vanilla Bean Paste
1–1/3 cups sifted unbleached flour
3/4 cup clarified unsalted butter plus 2 tablespoons for molds
3/4 cup powdered sugar
Instructions
Place butter into a small saucepan. Gently steep over low heat for 10 minutes to release the aromatic oils; do not boil. Remove from the heat, and set aside to cool for 30 minutes.
In a large bowl, whisk the eggs with the sugar until light colored and thick enough that it falls in ribbons. Depending on your mixer, this takes 5 to 8 minutes. Beat in the vanilla paste.
Fold flour into eggs, using a rubber spatula. Fold in the butter until just incorporated; don't over-fold. Cover bowl with plastic wrap and chill in the refrigerator for at least an hour.
Preheat the oven to 375 degrees. Using a small pastry brush, grease two 12-form Madeleine molds with 2 tablespoons of melted clarified butter, spreading evenly. Refrigerate the molds until the butter is set, about 10 minutes.
Spoon rounded spoons of the batter into the center of the molds. Do not smooth batter, and fill each mold only about 2/3 full. Bake in the center of the oven for 10 – 12 minutes. The Madeleines should be gold in the center and lightly browned around the edges.
Remove from the oven and sharply rap the mold against a surface to loosen them. Turn out, and cool slightly on a wire rack. When Madeleines are barely warm, dust with powdered sugar.
Notes
Will make about 2 dozen 3-inch cakes or 3 dozen 2-inch cakes.
Look Delicious?
Pin it for the world to see!
Latest posts by Patricia Rain
(see all)