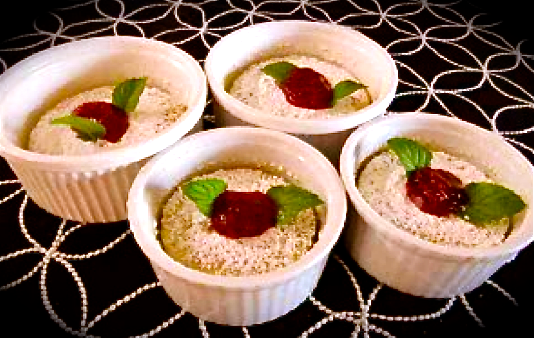 Recently I had dessert in a lovely café near where I live. One of their signature desserts is a lemon pudding that tastes as if it may have a cream cheese base. It was so good that I decided to go home and experiment.

I'm thrilled with the results with one small exception. I couldn't effectively get the pudding out of the ramekins as it was too creamy at the base. My suggestion is not to worry about removing them. Just serve them in ramekins or little baking dishes. I used vanilla paste as I wanted the richness paste imparts as well as the specks of vanilla bean powder in it. Although I had raspberries, they are nearly out of season, so I decided to use a dab of raspberry preserves on each dessert and put little mint leaves on each side. It was perfect. In my humble opinion, this recipe is a keeper!
Print
Lemon-Vanilla Pudding Cake
3/4 cup granulated sugar
1/3 cup all-purpose flour
3 large eggs, separated
2 tablespoons unsalted butter, at room temperature
1 cup light cream or whole or 2% milk
5 tablespoons fresh lemon juice (6 if using Meyer lemons)
1 teaspoon finely grated lemon zest
1/4 teaspoon salt
1/2 teaspoon Vanilla Bean Paste
Fresh raspberries raspberry coulis or raspberry jam for serving
Instructions
Preheat the oven to 350°.
Spray six 6-ounce ramekins with vegetable oil spray.
In a medium bowl, whisk the sugar with the flour.
In another bowl, whisk the egg yolks with the butter until well blended.
Whisk in the milk, lemon juice, lemon zest and vanilla paste with the eggs and butter.
Pour the lemon mixture into the sugar mixture and whisk until smooth.
In a medium bowl, beat the egg whites with the salt until firm peaks form.
Gently fold the egg whites into the lemon mixture.
Pour the batter into the prepared ramekins and transfer them to a small roasting pan.
Place the pan in the oven and pour in enough hot water to reach halfway up the sides of the ramekins.
Bake the pudding cakes for 35 minutes or until they are puffy and golden on top. Don't overbake!
Using tongs, transfer the ramekins to a rack to cool.
Serve the cakes in the ramekins lightly warmed or at room temperature, dusted with powdered sugar if you wish, and raspberries or a dab of good raspberry jam on top.
Look Delicious?
Pin it for the world to see!
Latest posts by Patricia Rain
(see all)