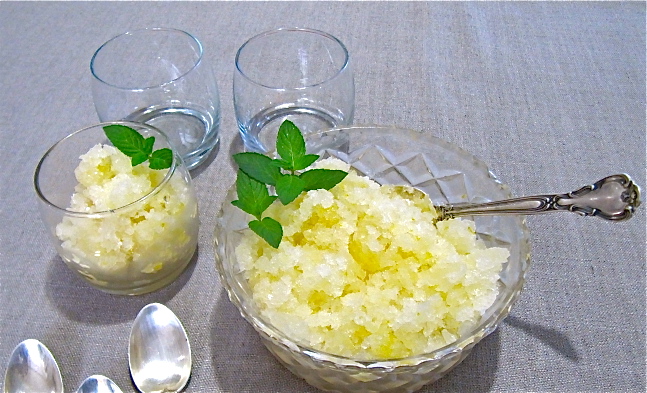 One of the delightful things about granitas is that you can switch out the flavors and add herbs or spices without screwing things up. This is not baking where everything must be precise. Switch out the lemons for limes or pomegranate juice or watermelon or whatever comes up. With lemon granita you can easily add rum and have a Daquiri Granita or tequila and salt for a Margarita Granita. If you switch from lemons, to limes, add lots of mint to the lime zest/sugar syrup, remove it before freezing, add a little rum and, voila, you have Mojita Granita. Don't add more than 2 – 3 tablespoons of alcohol to the granita mixture as it might not fully freeze, but you can serve the granita in glasses and pour a little more rum over the top.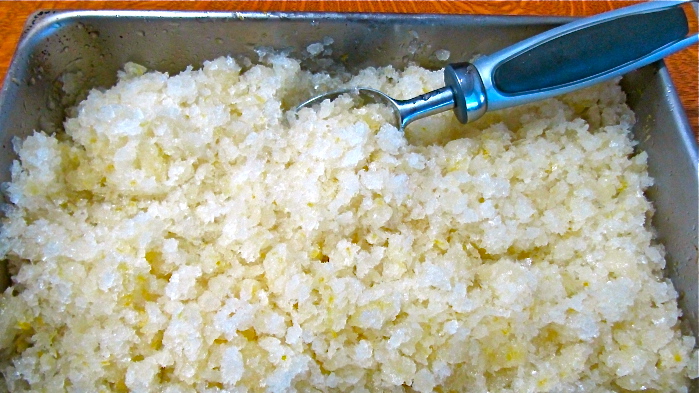 Depending on the ingredients you use for the granita, you'll need to adjust the sugar to taste. You can serve the granita on its own, over fruits, add sweetened whipped cream (David Lebovitz comments in his book, Scoop, that the Italians all but drown the granitas in whipped cream), make it boozy or turn the slurry into popsicles. Have fun and, if it doesn't turn out quite like you intended, enjoy the fact that it's refreshing and try again soon.
Print
Lemon-Vanilla Granita
2–1/2 cups water
1 cup sugar
2 teaspoons lemon zest from unsprayed lemons
1 teaspoon Rain's Choice pure Vanilla Extract
1 cup lemon juice
Instructions
In a medium, nonreactive saucepan, blend 1/2 cup of the water with the sugar. Add lemon zest. Heat, stirring frequently, until the sugar has completely dissolved. Remove from the heat, add vanilla extract and remaining water, then chill in the refrigerator.
When the mixture is cold, add the lemon juice and pour into a nonreactive container and place in the freezer.. When it freezes around the edges, take a fork and stir the mixture, breaking up the frozen pieces into smaller pieces and push them toward the center of the container. Put the mixture back in the freezer. Check again every 30 minutes, stir, and break any chunks into smaller pieces with a fork until you have small crystals of granita. If it freezes too hard at any point, let the mixture sit out until it is soft enough to stir, and break it up again.
Serve in glasses or bowls, over fruit or gelato, add sweetened whipped cream, or add some alcohol and use the granita as flavored ice.
Did you like this post?
"Like" it, and share your thoughts in the comments below!
Latest posts by Patricia Rain
(see all)