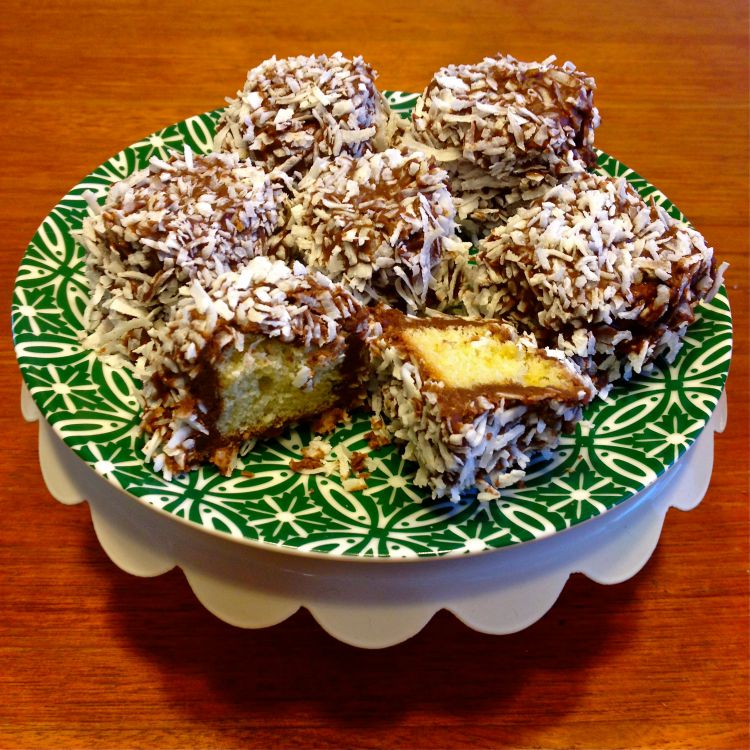 While there seems to be some debate regarding the origin of their name, which you can read more about here, there is no debate that Lamingtons are a favorite treat among Australians – So much so that they have a full day dedicated to them – July 21st! We found them to be such a clever way to repurpose left over pound cake or sponge cake that you no longer have to go down under to enjoy this adorable little treat. Enjoy these tasty morsels of chocolate and coconut dipped confection in July or any other time of the year. Tiny bite sized cakes, they're perfect for tea or an after supper sweet.
Print
Lamingtons
Instructions
Place parchment paper over two cooling racks – set aside
Icing
Place the chocolate chips and butter in a glass bowl and microwave on high for 30 second increments until melted. Allow to cool.
In a medium sized bowl mix the powdered sugar, cocoa powder, vanilla and boiling water together until smooth. Mix the powdered sugar icing together with the melted chocolate, again stirring until smooth. Dip the pound cake cubes into the chocolate icing until completely coated, then dip into the shredded coconut, coating the entire cube. Place the cubes onto the parchment covered racks until dry. Repeat until all cubes have been dipped.
Once the cubes are dry, cover and refrigerate overnight, allowing the icing to soak into the cakes.
Serve and enjoy!
Notes
For a fruity variation, cut the cubes in half and spread a layer of strawberry jam between the layers before icing the cakes.
Latest posts by Serena Rain
(see all)