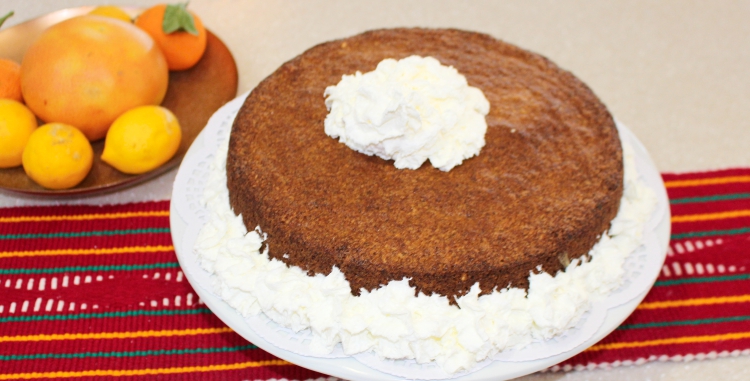 My mother took culinary classes when she lived in Washington, D.C. in the late 1960s, and one of the series focused on desserts from various countries. Karidopita Cake was among the desserts and one we really liked. So, when I was invited by a chef friend to a Greek Easter party I volunteered to bring the cake.
I'm not quite sure why things went wrong, but the cake stuck in the pan. I carefully ran a knife around the edges and thumped. Nothing. Finally it came out in seven or eight pieces. I was mortified as I worked with the chef and other chefs attending the party. I pushed the pieces together as well as possible, but it was obvious that it was not quite as it should have been. And, given that the cake was extremely moist, there was no frosting nor whipped cream to hide the flaws.
When I arrived at the party, my chef friend showed me a Greek pastry that he had ruined earlier that day. It looked far worse than mine. Then another chef arrived. I told him what happened, and he said, "But look — your cake represents all the Greek Islands!
The Greek aunties at the party were impressed enough that they were asking one another, "Is she Greek?" So don't worry if you end up with islands as well; it's how it tastes that ultimately matters.
Feel free to serve with a dollop of whipped cream or vanilla ice cream, especially nice on a warm day.
Print
Karidopita (Greek Walnut Cake)
Cake
6 eggs, separated
3/4 cups sugar
1 teaspoon Rain's Choice pure Vanilla Extract
3 cups finely chopped walnuts
8 pieces zwieback, crushed fine (or substitute finely ground dry bread crumbs)
1 tablespoon grated lemon peel
Rum Syrup
1 cup honey or sugar
2–1/4 cups water
1 cinnamon stick
1 lemon slice
1/2 cup light rum, brandy or bourbon
1 teaspoon Rain's Choice pure Vanilla Extract
Instructions
Preheat oven to 350 degrees.
In a large bowl, beat egg whites until stiff. In another bowl, beat yolks with sugar until thick and pale in color. Mix in vanilla extract. In another bowl, mix together nuts, zwieback, and lemon peel. Gradually fold beaten egg whites into yolk mixture and fold in nut mixture. Pour batter into a greased 13x9x2-inch pan and bake for 1 hour, or until cake tester comes out clean.
While the cake bake, make the syrup
In a saucepan, combine sugar or honey, water, cinnamon, and lemon. Bring to a boil, and simmer until sugar is dissolved, about 5 minutes. Remove from heat and stir in rum.
Immediately pour hot syrup over hot cake. Cover with aluminum foil. After cake has cooled completely, cut into diamond-shaped pieces or squares. It's also fine to bake it in a 9-inch cake pan.
Notes
Cake can be frozen, once it has been cut. Serve at room temperature.
Latest posts by Patricia Rain
(see all)