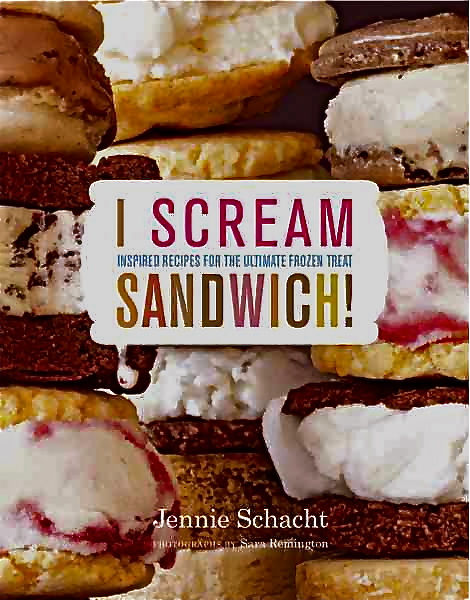 I Scream Sandwiches by Jennie Schacht (Stewart, Tabori & Chang; May, 2013)
Nothing screams SUMMER! louder to any kid than the ice cream truck bell or a trip to an ice cream shop. For kids lucky enough to have a mom who makes homemade ice cream, it's summer heaven, but even a dive into a store freezer for an ice cream sandwich will do in a pinch. You may remember, however, that unless you score an "It's It," most ice cream sandwiches have soggy cookies and artificially flavored ice cream. We tolerated them — and kids still do — because they are cold and sweet.
My grandsons have a strong gluten sensitivity so ice cream sandwiches were never on their radar until last summer. I discovered Enjoy Life gluten-free cookies that are both crisp and flavorful. I made ice cream sandwiches for them and, from their overjoyed reaction, you would have thought I had personally invented cuisine. Now it is a much anticipated treat each time they visit.
Imagine their excitement when I whip up one of the delicacies from, I Scream Sandwich: Inspired Recipes for the Ultimate Frozen Treat, written by my colleague and friend, Jennie Schacht. A super-fun book to read and even more fun to make the tempting delights, there's even a recipe for the iconic "It's It" now appropriately dubbed, "Better-Than-It," made with vanilla bean frozen custard, freshly baked oatmeal cookies and a rich chocolate shell!
I'm getting ahead of myself here. Jennie's preface to I Scream Sandwiches includes a brief history of the sandwiched frozen desserts. She then gives us a useful tutorial to assure us frozen treat success as well as information on the tools, equipment, cutters and molds we'll need, the best ingredients for perfect sandwiches and fillings, and secrets and tricks to implement the magic of frozen summer ambrosia.
At the beginning of chapter one, Jennie says something I've found to be so true in my years as a culinary professional: "I know too many people who love to cook but are afraid to bake. I have good news: It doesn't take training as a pastry chef to bring forth creamy, intensely flavored ice creams from your ice cream maker, or to bake cookies ready to sandwich into tantalizing frozen morsels. This chapter tells you all you need to produce sandwiches that are as captivating to eat as they are to look at."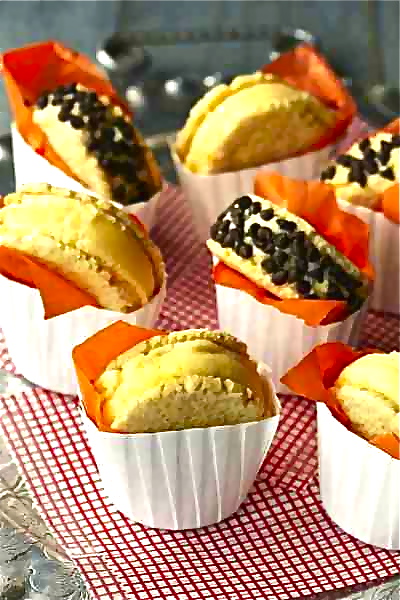 With mouth watering photos and a bright, primary- colored layout, Jennie's book places us in the middle of the old fashioned ice cream parlor and, with the guidelines to recreate it in our homes.
Let me tease you with some of the temptations that lie within: Dreamcicle (orange sherbet on vanilla-orange wafers), PB&J on warm toast, blackberry-buttermilk ice cream on crispy meringues, pistachio cardamom cookies stuffed with rosewater ice cream, or dulce de leche ice cream on brown butter brownies!
While the exotic possibilities are an allure, Jennie wisely also offers us two options with each recipe. Take It Easy gives us tips for making the recipe from pre-made ice cream and/or cookies. Dress It Up shows us how to gild the lily and take the dessert to the moon. So much fun!!
I've included a couple of recipes from I Scream Sandwich below, to whet your anytime-of-year appetite, with the hope that you will pick up your own copy of Jennie's latest book. I can assure you that you will place yourself squarely in the limelight if you produce any one of these treats for family and friends!
Did you like this post? "Like" it, and share your thoughts in the comments below!
Latest posts by Patricia Rain
(see all)