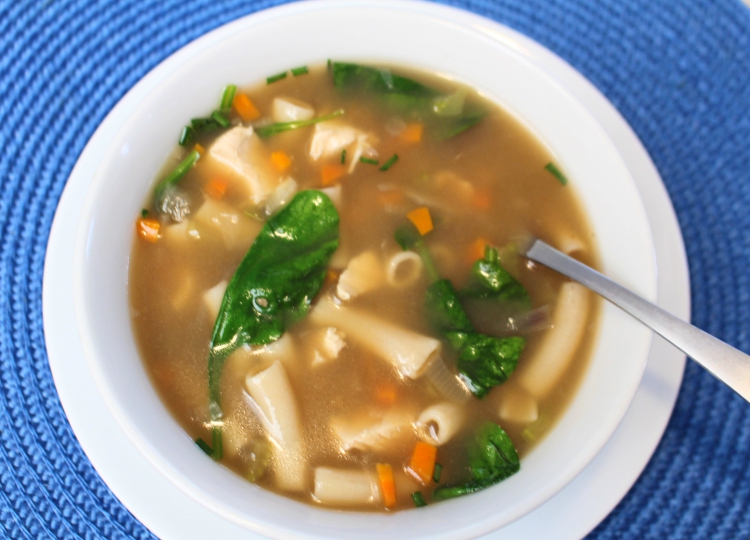 It doesn't matter whether it's raining, snowing or sunny, when we're exhausted or coming down with a cold or the flu, or even a little too much fun on the weekend, sleep and homemade chicken soup are the best medicine for whatever ails you.
You can always buy soups in a can or box, but the reality is they're usually high in sodium and fats. While the soup may warm you up, it probably won't have the nutrition you need to get back on your feet. So, here's a recipe you can make in under an hour assuming you have the ingredients on hand. You can easily double or triple this recipe and freeze a quart or two. Here are the ingredients you'll need to put together ahead of time to make the soup quickly and easily.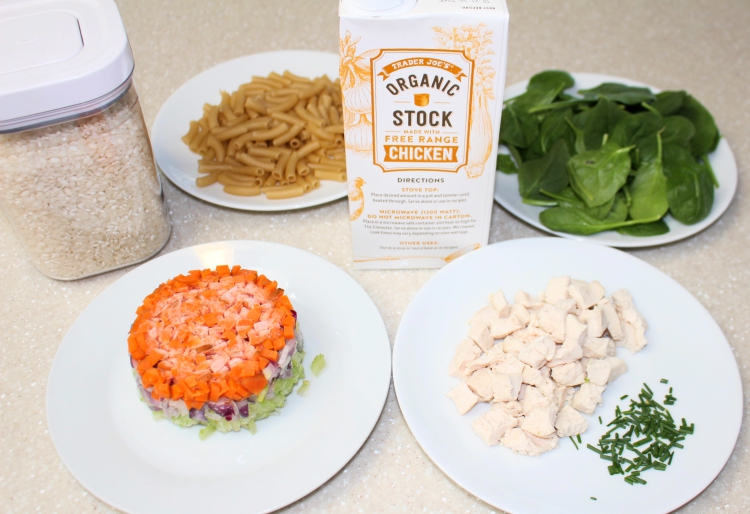 Chicken
You'll want to have in your freezer (or pick it up on your way home) 1 large chicken breast – about 2/3 of a pound – (enough for 2) or a double breast (enough for 4-5). While chicken thighs can be substituted, according to nutritionists, the breast will give you the most protein, which is what you need to kick-start your immune system. Note: I use a technique for cooking the chicken that you may use — or not. I bring chicken broth to a boil in a saucepan. I put the whole chicken breast into the pot so that it's covered with broth and I allow it to steep until cooked. If you are doubling or tripling this recipe, you can do this in the bigger soup pot as you'll have enough broth. By doing this, you're giving a boost of flavor to the broth and will have very tender pieces of chicken in the soup.
Broth in a Box
Chicken, beef and vegetable broth are all-purpose pantry staples that will get you through if you're stuck at home for whatever reason and add flavor to a pot of beans, soups, sauces and gravy.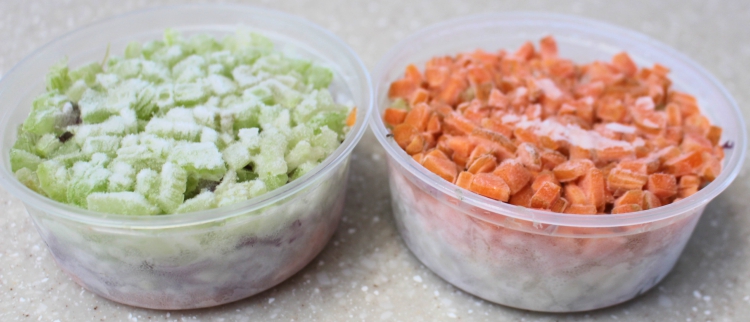 Mirepoix fresh from freezer
Mirepoix
Like so many culinary terms, the word mirepoix comes from France. It was the name of the patron of the chef who established the original blend in the 11th century. It was named for the Seignours of Mirepoix, from the region of Languedoc.
Despite its elegant name, it's simply a blend of three raw vegetables: 2 parts onion, and one part each, celery and carrots. The vegetables are chopped finely and all are really nutritious. They also are a flavor boost, and being finely chopped, they cook quickly.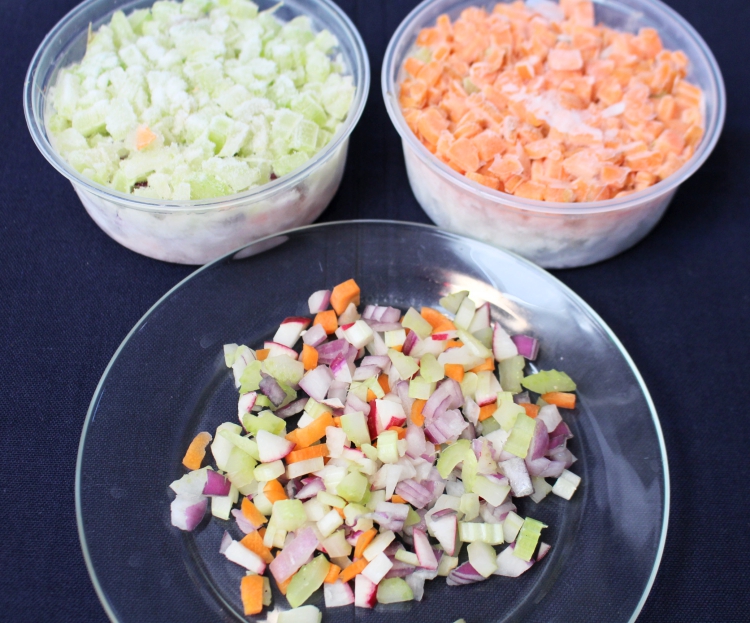 I consider mirepoix a pantry staple. I make several half-pint or pint containers at a time and freeze them. It isn't necessary to thaw or sauté the vegetables when making soup and it's a huge time-saver, ready for when you need it.
Noodles or Rice
Either works. I like using Arborio or other glutinous rice as it thickens the broth. However, if you prefer brown rice or regular white rice, that's fine. Rice takes longer to cook than noodles, so factor in how quickly you want to eat.
Additions
I'm a big fan of greens so I almost always have baby spinach in my refrigerator. Arugula also is another favorite. Both only take a few minutes to cook and don't require preparation. Frozen peas can be dropped into the soup and are cooked in a minute or two. Add greens and/or peas when the soup is almost ready.
I also keep chopped and sautéed mushrooms in my refrigerator or freezer to add to pasta and other quick meals. Mushrooms are incredible immune builders and pack a lot of flavor. I freeze them like mirepoix in either half- or pint- sized containers. If you add mushrooms and they're frozen, add them 10 minutes before adding the peas and greens.
If you have herbs — either fresh or dried – feel free to add them. I usually add freshly chopped garlic chives and/or chopped flat-leaf parsley from my kitchen garden. I haven't added vanilla to the recipe, but you are most welcome to do so if you wish. What I do add, however, is a few shakes of low-sodium soy sauce to add depth and umami, that rich savory flavor we all love.
By having all of the above available, assembling and cooking the soup takes less than an hour. Wishing you good health!
Print
Homemade Chicken Soup in Under an Hour!
A delicious homemade chicken soup you can make from start to finish in less than an hour!
Author:
Prep Time:

20 - 30 minutes

Cook Time:

25 - 30 minutes

Total Time:

3 minute

Yield: Serves

2

- Can be Doubled

1

x
Cuisine:

Soup
1 medium-large chicken breast
1 box chicken broth + 1 to 2 cups of water if soup is too thick
1/2 pint mirepoix (still frozen is fine)
1 to 1-1/2 cups rice (personal choice) or
5–6 ounces of pasta — penne or fusili work well
Frozen green peas, fresh spinach, or other greens to taste
Herbs if desired
Salt and pepper to taste
A few shakes of low-sodium or regular soy sauce (optional)
Instructions
Using a 1 or 2 quart pot, add half-to 3/4 of the box of chicken broth, and bring to a boil. Turn off heat and add the chicken breast, making sure that it is completely covered with broth. Add lid and let the chicken breast steep for 12 – 14 minutes depending on thickness of breast. Remove lid and insert a cooking thermometer or carefully slice thickest part of chicken to check to see if it is fully cooked. It should read about 160 degrees. A slight bit of pink is okay as it will continue to cook as it cools . If it looks ready, remove it to a plate; if not give it another minute or two.
Pour the broth into a larger soup pot, add balance of the broth in the box plus a cup of water for the rice or noodles, and the mirepoix and dried herbs if using, and bring stock to a boil. When it reaches a boil, add rice or noodles and continue to cook until rice is cooked (15 -25 minutes) or noodles (10 – 12 minutes). Add spinach, peas, and dried herbs if using, to pot. Add extra water if soup is thicker than you'd like.
While the soup cooks, cut the chicken breast into bite-sized pieces but don't add back into the soup until the rice or noodles are almost ready. Add chicken, salt and pepper to taste, bring up the heat one more time, then add fresh herbs such as parsley or chives, and serve.
Latest posts by Patricia Rain
(see all)