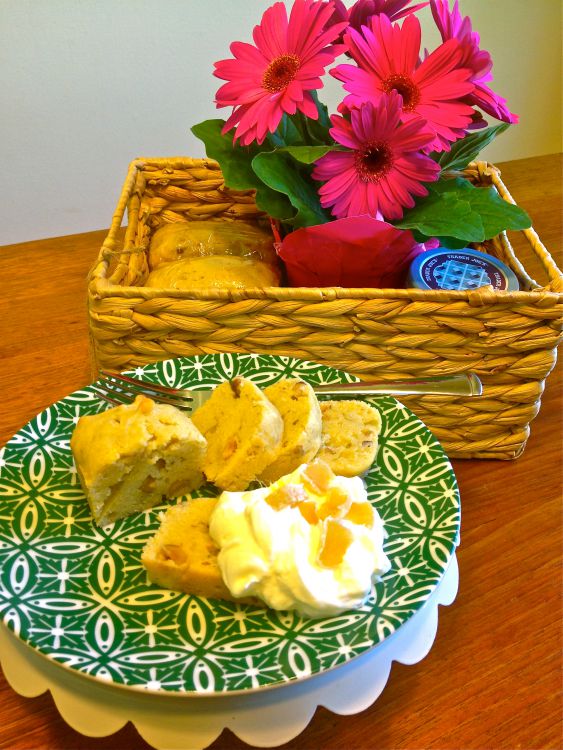 Courtesy of Janet Johnson
Janet has a touching story about this pound cake which is a little too long to share here in its entirety. Briefly, she has a friend who was born in Austria whose father worked for the railroads. Each day he walked 12 miles, inspecting the condition of the rails. While he walked, he gathered the wild hazelnuts growing alongside the tracks, and brought them home as a treat to his family.
When her friend returned home to celebrate her father's 80th birthday, Janet sent a hazelnut pound cake with her friend as a family gift. It traveled very well, and has since become a tradition in her friends' family to expect a hazelnut cake each time she visits. Given that the Austrians are famous for their desserts, this is a serious testimonial regarding the integrity of this cake.
Print
Double Vanilla Hazelnut Pound Cake
Pound Cake
8 oz. cream cheese, softened
3/4 cup butter, softened
1 3/4 cup Rain's Choice Vanilla Sugar
1 tablespoon Rain's Choice pure Vanilla Extract
5 extra large eggs
2 cups cake flour
1 cup hazelnuts, chopped & toasted
Powdered sugar for sifting over cake
Ginger Whipped Cream
1 cup heavy cream, well-chilled
2–4 tablespoons minced crystallized ginger
Instructions
Pound Cake
Preheat oven to 300 degrees. Butter and flour a 10 cup tube pan.
Cream together the butter and cream cheese until it is light, creamy and fluffy. Add sugar a little at a time, until the mixture is combined well, and is very pale yellow in color. Add eggs one at a time, beating well after each addition. Add vanilla extract
Stir 2 cups of cake flour in a bowl to reduce any lumps. Stir, do not beat, into the cream cheese mixture. Stir in hazelnuts.
Pour into pan and bake for 90 minutes, or until tester inserted in center comes out clean.
Do Not Overbake.
Let cake cool on rack for 10 minutes, in the pan. Invert cake onto rack. Sift vanilla powdered sugar over cake. Let cake cool completely. Cover and store at least two days before cutting. Cake travels well and can be stored up to one week. Can also be frozen.
Serve with Ginger Whipped Cream.
Ginger Whipped Cream
In a bowl, with an electric mixer, beat cream just to stiff peaks, and fold in ginger to taste.
*Note – For the picture above we used mini loaf pans making this a perfect gift for holiday gifts and favors
Latest posts by Patricia Rain
(see all)