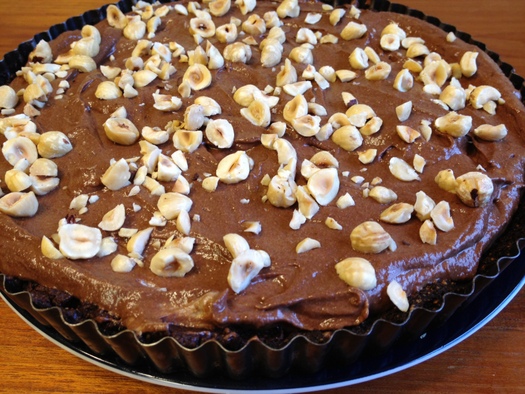 It feels like a cardinal sin to post a decadent chocolate recipe in a blog during the first week of the new year (2013).
Well, almost. As you can see it didn't stop me from doing it. I'm posting this amazing Hazelnut Chocolate Tart for you now because I was locked out of Facebook last week thanks to a Russian hacker so I couldn't post it for New Year's Eve. So if you've made some sort of pledge to lose ten pounds or to avoid dessert or chocolate at all costs, then simply bookmark this recipe for when you fall off the wagon. Or consider being a food voyeur as there are no calories involved in reading. And, if you have a friend who, like me, has the mixed blessing of being born in January (when no one wants to celebrate!) I highly recommend making this divine Hazelnut Chocolate Tart as a gift.
I found this recipe in Sunset and immediately tore it out of the magazine. My son-in-law Brad has a passion for the Swiss hazelnut chocolate bars sold at Trader Joe's. Any of you peeps hooked on them? So when I saw their photo of chocolate and hazelnuts I immediately thought of him and decided to make it for his birthday.
This is not a difficult dessert to make, but it involves several steps. Preparing the cookies and hazelnuts for the crust and the Nutella ahead of time was a brilliant decision as it saved time and cleanup on Christmas. I made them both over a week ahead of time. The nutella keeps well in the refrigerator and the cookies and nuts were stored in a sealed plastic bag.
The crust calls for chocolate cookies. The suggestion was to use chocolate wafers, which I'm sure would work well. I used a gluten-free option that was excellent and I recommend it if you can find them. Put out by Enjoy Life, I used the Double Chocolate. These cookies are crisp and full of flavor.
As for the Nutella, you could save time and use the store bought version. I will say, however, that the homemade is so good that it's worth the extra work. If you have a good blender or food processor, it's a snap to make. The one issue I have is that it's too thick to easily spread on toast or croissants.
Hazelnuts from Oregon are the best choice as the entire commercial US crop is grown there. While you might be able to find imported hazelnuts, they won't be as fresh or flavorful plus they carry a big carbon footprint. If you can't find them in a market bin, you can buy them from freddyguys.com, hazelnuthill.com or yournw.com.
Buy the nuts raw and roast them for about 15 minutes at 350 degrees F. Sunset recommended placing the roasted nuts in a tea towel, then rubbing them to remove the thin brown skins. I found this messy. Instead, after they cooled, I put about five or six in one hand and then rubbed the palms of my hands together so the nuts would rub against each other and shed their skins. Whatever way you decide to do this, just know that many of the skins don't want to completely come off. Get off what you can and don't worry about the rest. I will say that these nuts look good because they came this way. The next batch of hazelnuts we received at the market had their skins on.
Here's the recipe: Hazelnut Chocolate Mousse Tart
The recipe sounded so rich that I assumed that we'd need whipped cream on the side to cut the richness. I know, this sounds ridiculous, but whipped cream cuts the richness of chocolate. But the mousse is very light and balances the richness of the Nutella without any additional help. I do hope you will enjoy this tart sometime in the near future if not now. I'm ready for one right this minute!
Did you like this post?
"Like" it, and share your thoughts in the comments below!
Latest posts by Patricia Rain
(see all)