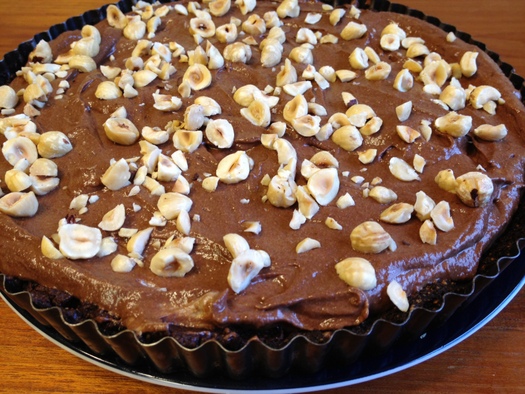 While this recipe involves some time and dedication, it isn't difficult. It was inspired by a recipe in Sunset magazine, which I've adapted. For instance, the original recipe called for two tablespoons of hazelnut liquor, such as Frangelico. The local liquor store didn't have any "shooter" bottles and I didn't want to invest in a large bottle, so I added some extra vanilla extract. Frankly, I don't think it would have added significantly to the flavor of this magnificent dessert. And, if you want to save time, purchase pre-made Nutella. It isn't going to be quite the same, but it will save you 15 – 20 minutes of time.
Print
Hazelnut Chocolate Mousse Tart
Crust and Spread*
6 ounces Famous Chocolate Wafers or gluten-free cookies
1/2 cup skinned roasted hazelnuts
5 tablespoons unsalted butter, melted
Chocolate Hazelnut Spread (recipe follows)
Mousse and Topping
6 ounces good quality bittersweet or semisweet chocolate (such as Guittard, Valrhona or Callebaut)
2 tablespoons sugar
2 large eggs, separated **
1/2 cup whipping cream
2 teaspoons Rain's Choice pure Vanilla Extract
1/2 cup roughly chopped roasted hazelnuts
Instructions
Preheat oven to 325 degrees F.
Make Crust
In a food processor, whirl cookies and hazelnuts until finally ground. Add butter and whirl until crumbs start to clump together. Press crumbs over bottom and up sides of a 9-1/2 inch tart pan with a removable rim.
Bake until crust is set, about 10 minutes. Let cool completely.
Chocolate Hazelnut Spread
Whirl 1 cup skinned roasted hazelnuts in a food processor, scraping bowl as needed, until it looks like peanut butter. Melt 4 ounces semisweet chocolate (good quality) in a small saucepan over low heat, stirring often; let cool slightly. Add melted chocolate, 2 tablespoons unsweetened cocoa powder, 1/2 cup powdered sugar, 1 teaspoon Rain's Choice vanilla extract and a few pinches of sea salt to food processor, and whirl until smooth. Some fine nutty bits will remain. Spread chocolate hazelnut spread over crust. Chill until spread is firm, about 30 minutes.
Melt chocolate and sugar with 2 tablespoons water in a small saucepan over low heat until smooth, stirring frequently, about 10 minutes. Set aside.
Beat egg whites in a medium bowl using a mixer until they hold stiff peaks. Beat cream in another bowl until stiff. Stir yolks and vanilla into chocolate mixture.
Gently fold chocolate mixture into egg whites, then fold in cream until no streaks remain. Pour mousse into crust and spread evenly. Sprinkle with chopped nuts and chill until mousse is firm, at least 3 hours and up to a day ahead.
Remove from pan and cut into wedges.
Notes
* You can process the cookies and nuts ahead of time. When ready to make crust, place the mixture into a bowl and add melted butter. Mix well and proceed as directed.
**Use pasteurized egg whites or egg substitute for both eggs and whites if you are concerned about eating raw eggs, and follow manufacturer's conversion amounts.
Look Delicious?
Pin it for the world to see!
Latest posts by Patricia Rain
(see all)