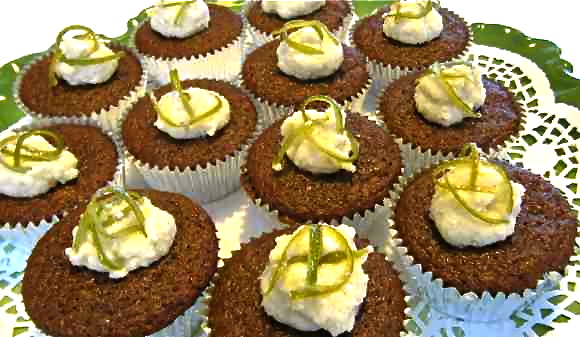 Adapted from David Lebovitz' Ready for Dessert
In honor of Irish heritage (mine and a lot of other Americans who also have Irish ancestors), I wanted to make something special for those who celebrate St. Paddy's Day. Unfortunately, the Irish are not known for their desserts. However, Guinness Stout is in every Irish pub and is the beverage of choice on March 17th.
If I hadn't mentioned to a friend that I was making the cupcakes I wouldn't have known about the early history about Guinness Stout. He mentioned that Arthur Guinness, the founder of Guinness, was an exceptional man. Born in 1725, in 1755 he inherited 100 pounds sterling from his godfather, an archbishop in the Protestant church. With this money he followed in his father's footsteps and started a brewery. During this period in time, sewage and waste water was largely dumped into the rivers and streams that were also used for drinking water. Because the water was polluted (and was polluted in America as well, which is why everyone, including children, drank hard cider), people in the British Isles drank beer. Arthur, who had been concerned about the heavy use of gin during this moment in time, wanted to provide something that was healthier and not as alcoholic, which is why he made stout. Stout is from unrefined barley, so it contained nutrients that are heart-healthy.
More than that, he instilled in his children the importance of treating employees with kindness and care. Over the years the family paid their employees better wages than anyone in Ireland. They provided living quarters, medical care and other services for them as well. They were known for a long time as the most caring employers in the world. This is not to say that the family has been free of scandal. Indeed, the Guinness heirs in the twentieth and twenty-first centuries have provided lots of fodder for the tabloids. That said, until 2014 there has been an Arthur Guinness Day each year in Ireland. In 2014 it was changed to Arthur Guinness month! As the cupcakes only call for 1/2 cup of Guinness and, because you will have the majority of a large bottle of Guinness left over, may I suggest you toast Arthur Guinness when you enjoy the hearty stout for which he is known.
Print
Guinness Gingerbread Cupcakes with Lime-Vanilla Frosting
Cupcakes
1/2 cup (125 ml) stout beer, such as Guinness
1/2 cup (125 ml) mild molasses
1/2 cup (125 ml) vegetable oil
1/4 teaspoon baking soda
3/4 cup (170 g) packed light brown sugar
1 teaspoon Vanilla Bean Paste
1 1/3 cups (185 g) all purpose flour
1 1/4 teaspoon baking powder
2 teaspoons ground ginger
1 teaspoon ground cinnamon
1/4 teaspoon cloves
1/2 teaspoon salt
2 large eggs at room temperature
1/2 cup (50 g) finely minced candied ginger (I used Whole Foods' Brand)
Lime Frosting
4 tablespoons (2 ounces, 60 g) unsalted butter, at room temperature
1 1/2 (180 g) cups powdered sugar, sifted
2 1/2 tablespoons freshly squeezed lime juice, more to taste
1 tablespoon whole milk
1/2 teaspoon Rain's Choice pure Vanilla Extract
Instructions
Preheat the oven to 350 degrees F. Line a 12 cup muffin tin with cupcake liners or butter profusely and be ready to clean up the pan.
Cupcakes
Bring the oil, molasses, and beer to a boil over medium high heat in a large saucepan. Remove from the heat, whisk in the baking soda until dissolved (the mixture will foam up quite a bit). Stir in the brown sugar and then let cool until tepid.
Sift together the flour, baking powder, ginger, cinnamon, cloves, and salt in a small bowl.
Whisk the eggs into the stout mixture then gently whisk in the flour mixture until just combined. Don't overmix. Add in the candied ginger.
Evenly fill the cupcake liners bake until the cupcakes are just set in the center, 22-24 minutes. Let cool completely before frosting.
Lime-Vanilla Frosting
With a stand mixer fitter with the paddle attachment or with a hand mixer, beat the butter for 10 seconds on high speed, or until smooth. With the mixer running and the speed on low, gradually add half the powdered sugar. If using a hand mixer, its okay to dump it all in at once. Stop the mixer, scrape down the sides, and add the lime juice. Then incorporate the remaining powdered sugar. Once these are all well enmeshed, add in the milk and vanilla. Beat until smooth and fluffy, about 3 minutes. Taste and add more lime if desired.
Notes
If you want, you can use the lime peel to make candied lime peel for the top of the cupcakes. Mix 1/2 cup sugar with 1/2 cup water and boil until it starts to thicken. Add thinly sliced strips of lime peel and cook until the mixture is very thick. Allow zest to stay in the syrup for 10 minutes, then carefully remove and place on wax paper. After applying frosting, decorate with the lime peel.
Adapted from Adapted from David Lebovitz' Ready for Dessert
Look Delicious? Pin it for the world to see!
Latest posts by Patricia Rain
(see all)