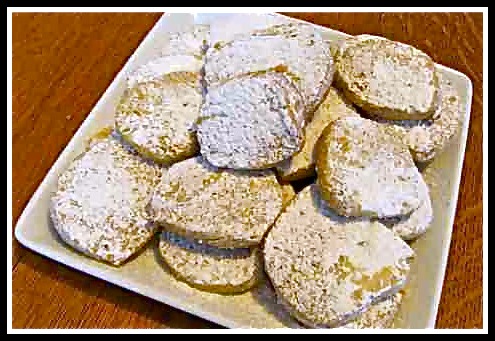 Years ago Earl Darny was the pastry chef at Bay Wolf Restaurant in Oakland, one of my favorites in an area filled with amazing restaurants. Earl gave me this recipe saying, "This is one of my favorite cookies." He later went on to open his own bakery.
I finally made them for the first time this afternoon; they're fairly addictive.
They aren't very sweet and the cornmeal gives them an appealingly gritty texture. Initially I tried them plain and then I decided to give them a light dusting of powdered sugar. Sorry Earl; they taste great!
I have taken another liberty with the original recipe. Earl scraped seeds from a vanilla bean and added 1/2 teaspoon vanilla extract. I used vanilla paste instead, a time saver with a rich vanilla flavor. You should make these and serve them with tea or Port or just by themselves.
Print
Grismelli – Vanilla Scented Cornmeal Cookies
6 ounces (1–1/2 sticks) unsalted butter
1/3 cup granulated sugar
1/2 – 3/4 teaspoon Vanilla Bean Paste
1–1/2 cups all-purpose flour
1 cup fine corn meal
1 teaspoons baking soda
1/4 teaspoon salt
powdered sugar (optional)
Instructions
Preheat oven to 350 degrees F.
In a medium large bowl, cream the butter, sugar and vanilla paste until the mixture is light and fluffy.
Sift the dry ingredients together and beat into the butter mixture a little at a time. Chill the dough until firm, then roll into a log 1-inch in diameter. Re-chill for a few minutes if necessary, then cut the roll into 1/2-inch slices and place on a parchment-lined sheet pan with space around each cookie. Bake for 10 – 12 minutes. The cookies should be just slightly golden at the base with no color on the top. Let cool before removing from the pan as they are crumbly when hot. Dust lightly with powdered sugar if desired.
Look Delicious? Pin it for the world to see!
Latest posts by Patricia Rain
(see all)