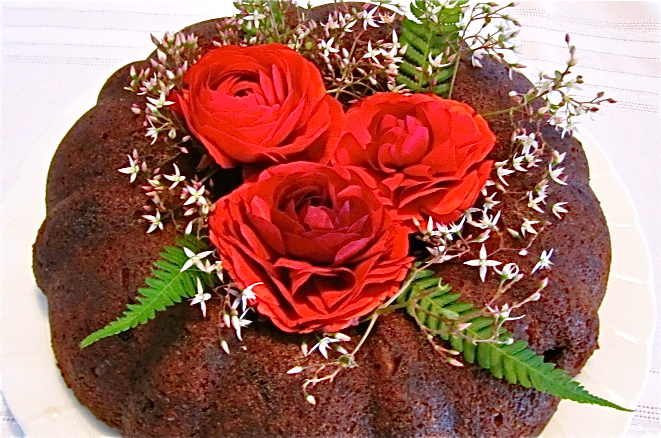 I always associate gingerbread as just right for a cozy evening at home when it's chilly outside. Of course it's terrific any time of the year, and if you're a ginger lover, this is an especially good recipe as it has both powdered and crystalized ginger as well as complementary spices that enhance the flavor. It's also quite moist as it contains applesauce and has a delicate lemon-vanilla glaze. Gingerbread served warm from the oven with whipped cream is hard to beat, but it's also good lightly toasted with butter or cream cheese on a leisurely weekend morning.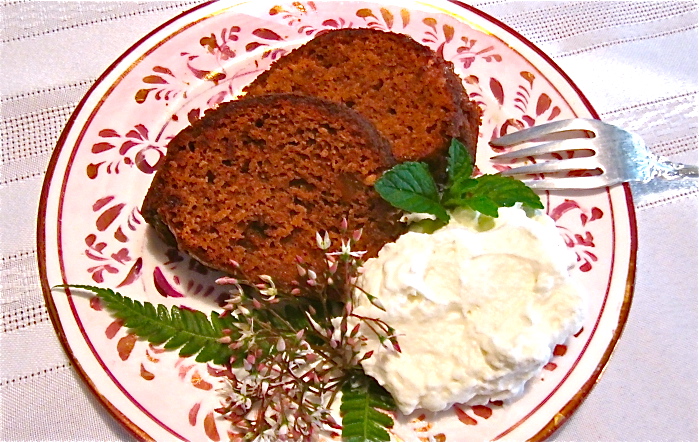 Print
Gingerbread with a Lemon-Vanilla Glaze
Gingerbread
2 cups unbleached flour
1 teaspoon baking soda
1 teaspoon ground ginger
3/4 teaspoon ground cinnamon
1/2 teaspoon ground cloves
1/2 teaspoon freshly ground nutmeg
1/2 teaspoon salt
1 cup brown sugar (or moscovado sugar)
1/2 cup vegetable oil
1 large egg, room temperature
1/2 cup unsweetened applesauce
1/2 cup water
2 teaspoons Rain's Choice pure Vanilla Extract or 2/3 teaspoon Vanilla Bean Paste
3 tablespoons finely chopped crystallized ginger
Glaze
3/4 cup water
1/2 cup sugar
juice of 1/2 lemon (more if using Meyer lemons)
1/2 teaspoon Rain's Choice pure Vanilla Extract
Instructions
Preheat oven to 350 degrees F. Grease a 9 x 13″ pan, a10-inch tube pan or 6 cup bundt pan.
Mix flour, baking soda, ginger, cinnamon, cloves, nutmeg and salt into a large bowl.
In another large bowl, whisk the brown sugar, oil and egg until well combined, then whisk in the applesauce, water and vanilla extract or paste. Add the dry ingredients and stir well. Fold in the crystalized ginger. Spread evenly in the prepared pan.
Bake until top is firm and springs back when pressed with your fingers, about 35 minutes, or about 50 minutes using a tube or bundt pan.
Transfer to a wire cooling rack.
While the cake is baking, place water and sugar into a small saucepan and bring to boil. Allow to boil until it becomes lightly syrupy, about 12 – 15 minutes. Remove from heat and add lemon juice. Taste to adjust to the amount of tartness you'd like. Add vanilla.
Gently poke holes in the warm gingerbread then drizzle glaze over the cake.
Remove cake from pan when it has cooled. Serve with a dollop of whipped cream.
Makes about 10 servings.
Look Delicious?
Pin it for the world to see!
Latest posts by Patricia Rain
(see all)