Several years ago I had a terrific recipe for shortcake biscuits. Naturally, I lost it. I didn't know this, of course, when I decided that it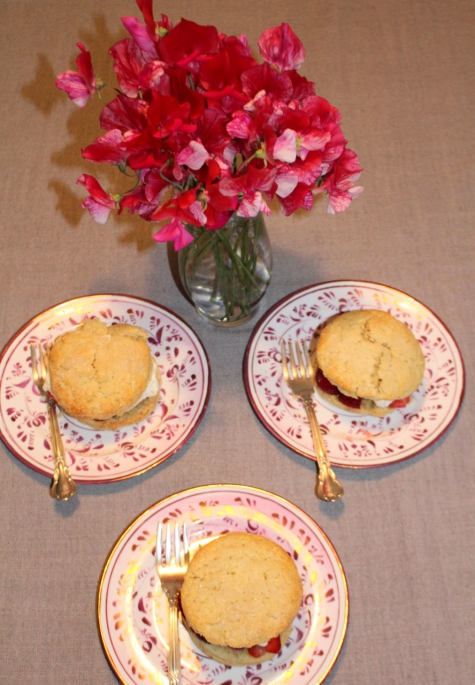 would be the perfect dessert to bring to a party I was attending. Even though it was late in the season, the warm, sunny days we've had has meant a never-ending abundance of strawberries and, even as I write this, it appears it's far from finished.
If you're reading this post in May, read on. You are at the welcoming end of the new season and the recipe I located is great. If you're reading this in late September, this is the recipe to use with the last of the season's berries.
Can you imagine warm shortcakes filled with juicy berries and whipped cream (or Greek yogurt if you must) for breakfast? This is what got me through a lot of cookbooks and ultimately led me online where I scored. The winning shortcake? Made by James Beard's mother!
Here's the surprise: James Beard wrote over twenty cookbooks but never included his mother's recipe. However, he did confide in his friend, Larry Forgione that, "There can never be a better dessert, only fancier." Forgione ended up with the recipe, included it in his book, An American Place (Morrow, 1996), and it was a hit.
Several chefs and culinary professionals agree. Food 52 writer, Kristin Miglore shared the recipe on Food 52, and included it in her recent cookbook, Genius Recipes. Russ Parsons raved about it in his Los Angeles Times column, and Rose Levy Beranbaum says it's the only shortcake recipe she uses, according to Miglore. Pretty heady stuff for a simple shortcake recipe.
So why is this cream biscuit so special? Hard boiled egg yolks! Because the yolks are dry and don't get absorbed by the flour, the dough remains tender. Add some butter for more richness and a crisp exterior and you end up with a winning biscuit. Fascinating, isn't it?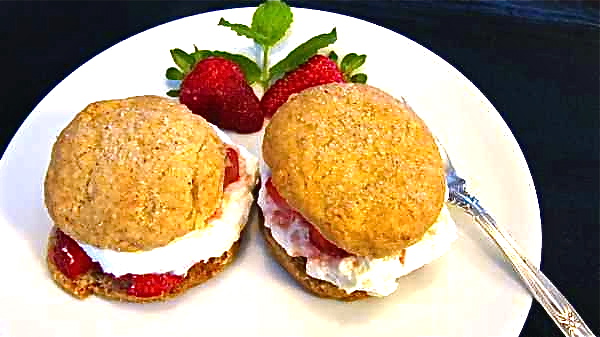 I have adapted the recipe slightly by using Rain's Choice Vanilla Sugar on the biscuit tops and vanilla extract in the whipping cream. I'm trusting that James and his mother would not mind.
If this leaves you dreaming of shortcakes but berries are crazy expensive, consider buying only one basket and adding some sliced or chopped bananas or even frozen berries lightly thawed. If you want to use raspberries, blueberries, blackberries or a blend of berries, go ahead! One last comment: The shortcake biscuits in my photo above are smaller than suggested . Feel free to do the same if you'd like.
Print
Fresh Berry Shortcakes
2 cups all-purpose flour
1/4 cup granulated sugar
1 tablespoon plus 1/4 teaspoon baking powder
6 tablespoons chilled unsalted butter, cut into small cubes or grated into batter
2 hard-boiled egg yolks, pushed through a fine sieve
3/4 cup heavy cream, chilled
2 tablespoons butter, melted
1 tablespoon Rain's Choice Vanilla Sugar
3 pints fresh strawberries or other berries, washed, hulled, and cut in half or quartered, depending on size
2 tablespoons sugar
1 cup chilled cream
1 tablespoon sugar
1/2 teaspoon Rain's Choice pure Vanilla Extract
Instructions
Sift together flour, sugar and baking powder into a bowl. Using your fingers, work the chilled butter into the flour mixture with your fingers until it has the consistency of coarse crumbs. Add the sifted hard-boiled egg yolks and cream; gently mix until the dough just comes together.
Turn the dough onto a lightly floured board and gently knead to make a smooth dough (about two or three turns). Pat down the dough to make a 1-inch-thick round. Using a lightly floured 2 1/2-inch-round cookie cutter, cut out 6 shortcakes. Brush the tops with the melted butter and sprinkle with the reserved tablespoon of vanilla sugar. Place the shortcakes on a plate lined with waxed paper or plastic wrap and refrigerate for an hour.
Heat the oven to 350ºF. Transfer the chilled shortcakes to a parchment-lined baking sheet. Bake on the center rack of the oven for 12 to 15 minutes, until golden and firm to the touch. Remove from the oven and let cool slightly.
While the shortcakes cool, prepare the fruit filling and whipped cream: place the strawberries in a glass bowl and add the sugar. Gently stir and let sit for 1 to 2 minutes.
Whip the cream, sugar, and vanilla together in a medium bowl until the cream just begins to thicken.
Using a fork or serrated knife, cut the shortcakes in half lengthwise. Place the bottom halves on 6 plates and generously spoon the macerated fruit and juices over them. Top with a heaping dollop of lightly whipped sweetened cream. Top with the top halves of the shortcakes.
Did you like this post?
"Like" it, and share your thoughts in the comments below!
Latest posts by Patricia Rain
(see all)