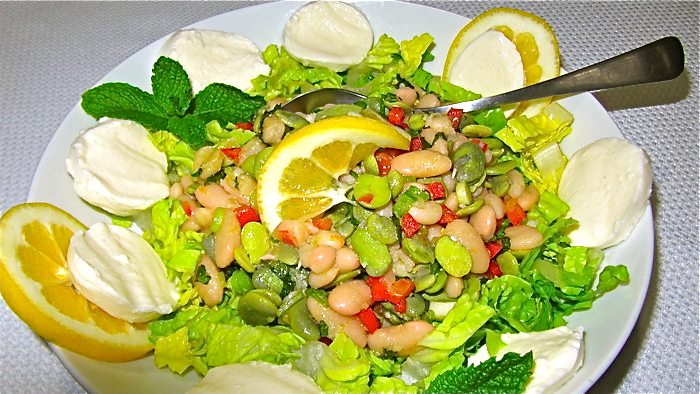 Every spring I look forward to at least one dish that includes fava beans. Like artichokes and asparagus, favas burst delicious green energy flavor. Truthfully, I never tasted favas until well into adulthood as my mother, who spent summers on her grandparents' farm in Canada, always said that fava beans were animal feed. To that I say, "It's good to be a cow."
There are two problems with fava beans. The first is they're labor-intensive to prepare. But, there's an "app" for that. I shuck the pods while visiting with a friend or watching Netflix. When the beans are cooked, you call another friend or continue with Netflix while you pop off the tough outer skins. The bright green beans are your reward.
The other problem is finding fresh favas. I got mine at our local Farmers' Market. I thought I would get two cups of beans from the large bag of pods I bought but it only yielded about a cup. I considered my options and decided that adding white beans to the favas would still make a tasty salad while also saving time. So that's what I did. If you have access to lots of fava beans, use only favas. If you don't or would rather use white beans too, use a can of white kidney beans (aka cannellini beans) or cook your own. I had some cassoulet beans from Rancho Gordo, my favorite place to buy dry beans — they're the best — so I used them. However you do it, the goal is to end up with between 3 and 4 cups of beans for this salad.
Feel free to improvise based on your ingredients at hand. To make the salad a main dish, add some hard boiled egg slices and some good bread warmed up or toasted.
One last detail. I was so busy getting the salad prepped that I completely forgot to add the pistachios until the next day! Below the recipe is a photo of my salad with pistachios. Don't forget them; they add good crunch to the salad.
Print
Fava and White Bean Salad With Mint, Vanilla and Pistachios
2 – 1/2 pounds fava beans in pod*
2 cups cannellini or other white beans, cooked and drained, or 1 15 ounce can cannellini beans
1/4 cup scallions, thinly sliced (1 – 2 scallions)
1/3 cup red bell pepper, diced
1 tablespoon chopped fresh mint plus additional mint for garnish
4–5 tablespoons extra-virgin olive oil, divided
1 teaspoon lemon zest
1 tablespoon lemon juice
pinch of sugar

1/4 teaspoon Rain's Choice pure Vanilla Extract
Sea salt
Freshly ground pepper
2 (4-ounce) balls fresh mozzarella
1/4 – 1/2 cup chopped toasted pistachios
Whole butter lettuce leaves or shredded Romaine lettuce
Instructions
Shuck the beans into a medium-sized pot. Cover with water and boil or steam the beans just until tender, about 7 minutes. Drain and cool the beans. Cut a nick in the bottom of the skin of each bean then, using your thumb and index finger, pop the inside beans from the skin. You should have 1-1/2 – 2 cups fava beans.
Place fava beans, white beans if using, scallions, red pepper and mint in a medium bowl. Set aside.
In a small bowl whisk 3 – 3-1/2 tablespoons olive oil, lemon zest, lemon juice, sugar, vanilla extract, salt and pepper until well blended. Taste and adjust to taste. Pour dressing over bean mixture, then chill until ready to serve. Bring beans to room temperature before serving.
On a large plate, lay butter lettuce or shredded Romaine to create a bed for the bean mixture. Spoon beans over the lettuce and drizzle leftover dressing over all. Cut fresh mozzarella balls into rounds and arrange them around the salad. Season the mozzarella with a little more salt and freshly ground pepper, and drizzle lightly with olive oil. Scatter the chopped pistachios over the top and serve.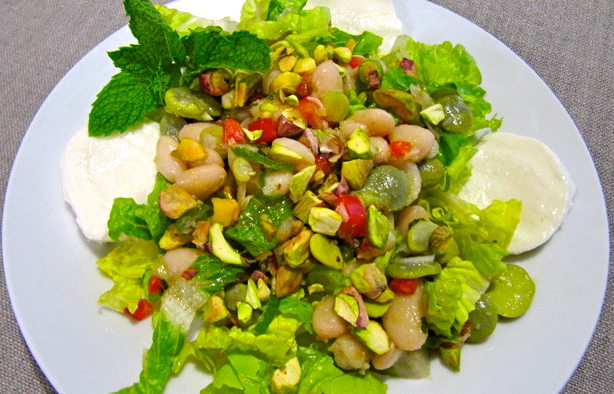 Latest posts by Patricia Rain
(see all)