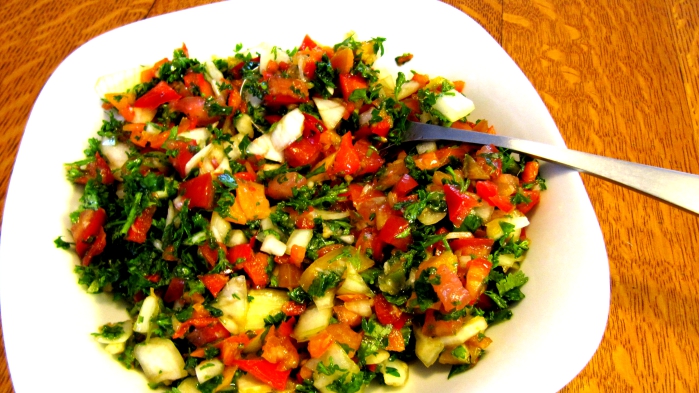 Sofrito — So-free-toe. Isn't that a great word? I don't even remember where I found this recipe, but I'm crazy about it. Even though it's very similar to salsa, the ingredients are all fresh and raw and whatever you put Sofrito on, it just pops!
Recently I made Sofrito with rice and beans for some vegan friends. I knew my recipe was Cuban and that various versions of Sofrito are eaten throughout the Caribbean but I became curious about its origins and how it evolved. Turns out it originated in Medieval Catalonia, Spain. The name Sofrito means to fry lightly. The early Spanish colonists who settled in Cuba brought it with them. The concept spread throughout the Caribbean and even into the Yucatan in Mexico. I wouldn't be surprised if it made landfall in Veracruz also as that was the port-of-entry for the early Spaniards at the time of the Conquest.
Like cuisine everywhere, Sofrito has evolved not only in ingredients but also in name. For more information on its origins there's a good article about it here. Sofrito is most often cooked, but raw versions are found in Cuba and probably other countries. The original recipe didn't contain tomatoes as they're a food of the Americas. The peppers used are usually mild and should be red, not green. I like the little, sweet peppers that are red, yellow and orange and increasingly available in the market. However, it's quite acceptable to make spicy or pungent Sofrito, so if you like hot, feel free to add hot peppers, pepper flakes, or even Tabasco sauce.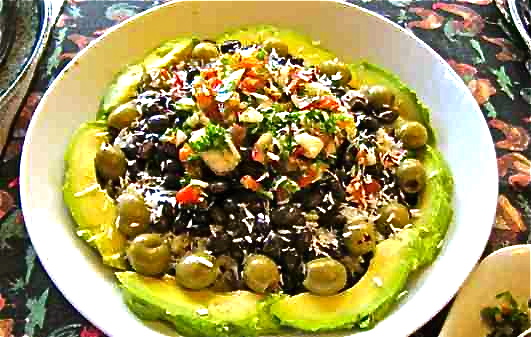 Here's a fast recipe for Rice and Beans with Sofrito. Cook white or brown rice using coconut milk for part or all of the liquid. Add freshly made or canned black beans, drained, and put over the rice. I added unsweetened dried coconut and green olives with pimentos (a very Spanish addition) along with the Sofrito and garnished the dish with fresh avocado slices. A very healthy, simple and delicious main dish or a side with grilled poultry or meat.
And here it is with poached chicken. In Cuba Sofrito frequently contains chopped ham (pork is the main meat used on the Island). Add it for additional flavor if you'd like. It would also be delicious over roasted pork or grilled pork chops.
Print
Cuban Chicken With Sofrito
Chicken
6–8 chicken thighs or legs and thighs or use a whole chicken, cut up
Sea salt and black pepper
2 tablespoons olive oil
5 tablespoons (or more) sofrito sauce (recipe follows)
2 dozen manzanilla olives
Sofrito Sauce
3 medium red, yellow, or orange (or a blend) peppers, seeds removed
2 large tomatoes
2 medium onions, peeled
1 head of garlic, peeled
1 bunch cilantro leaves
1/2 bunch parsley leaves
1/2 teaspoon Rain's Choice ground Vanilla Bean Powder
Salt, pepper and smoked or sweet paprika to taste
Olive oil and lemon juice, enough just to bind ingredients together
Instructions
Chicken
Season chicken with salt and freshly ground black pepper.
Heat a saute pan over medium heat and add oil. Add chicken and brown on both sides.
Once chicken is browned, add in sofrito and turn chicken to coat all sides in the sauce. Reduce heat to a medium-low setting.
With the side of a knife, crush olives and put into pan with chicken.
Cook for about 15 minutes, turning chicken every few minutes until it is done. Add more sofrito at any time if you would like more sauce.
Serve with black beans and rice.
Sofrito Sauce
Peel garlic and chop ingredients into sizes that are small enough to fit into a food processor or blender. Place the chopped ingredients into a food processor or blender.
Blend together all ingredients well. If too thick, add olive oil, 1 tablespoon at a time. Add lemon juice to taste. This recipe makes about 1 quart of sauce. If you prefer, halve the recipe, which should be plenty for the above recipe for four.
For immediate use, store in a glass container. Plastic containers are not ideal because plastic will absorb the odor of garlic and onions. For future use, freeze sofrito in 1/4 to 1/2 cup portions for use at any time.
Look Delicious?
Pin it for the world to see!
Latest posts by Patricia Rain
(see all)